Protection cover for flags
Transparent protection covers and sacks for flags, standards and pennants
Protection against rain and soiling while using the flag outdoors is provided by the transparent covers of Fahnen Kössinger that are made to measure. The flag cover is custom-made according to your individual requirements. After the transport, however, your flag has to be stored without the cover in order to avoid any damage by moisture. Our transparent covers are the optimal accessory for protection against rain when you have to use the flag in bad weather.
Product details
Application
Transport of flags and standards
Protection against adverse weather influences
perfect rain protection
dirt-repellant

Formats
many standard formats available
Custom-made sizes on demand possible

Execution
square or rectangular cover
sack with conical tip

Standard formats
Numerous standard formats of the transparent covers for rain protection are available for club flags and standards.
The transparent covers for flags are provided with heat-sealed seams on three sides and with patent buttons on the pole side.
for club flags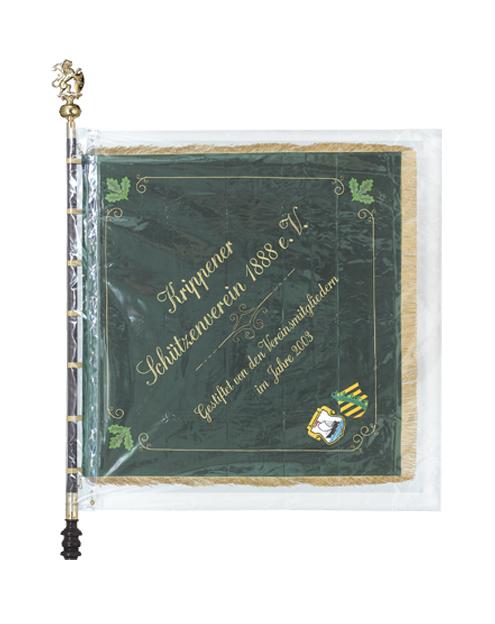 The transparent cover for club flags encloses the flag and the upper part of the pole. Laid flat, the flag is put into the cover and always fully visible. The practical patent buttons at the pole side enable a light and quick handling.
The transparent cover is available in the following formats:
from 100cm x 100cm
to 160cm x 160cm
for standards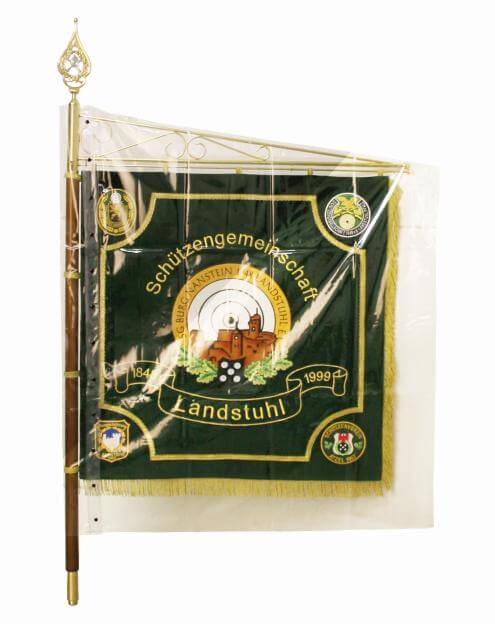 The cover for standards that also envelops the bannerarm is easily manageable by practical patent buttons.
Together with the banner arm, the standard is protected against rain and dirt and remains fully visible.
The cover is available in the following sizes:
from 80cm x 80cm
to 100cm x 100cm
Transparent sack for club flags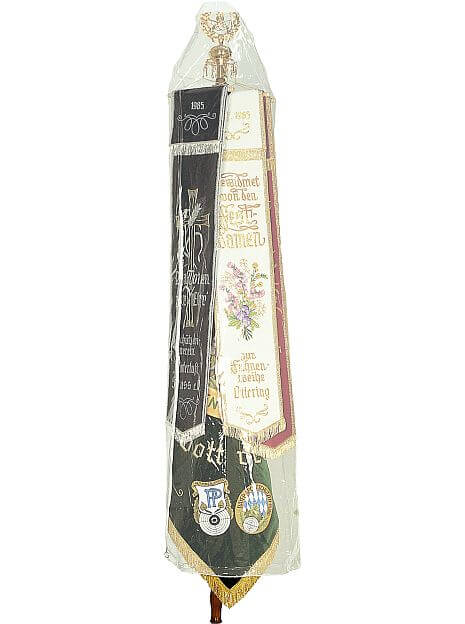 The transparent sack is a low-price alternative to our custom-made transparent cover. It is available in two different sizes at Fahnen Kössinger's:
- 225 cm long, suitable for club flags up to abt. 140 x 140 cm
- 260 cm long, suitable for club flags up to abt. 140 x 140 cm
Description
tip conically reduced
tip reinforced
longitudinal side with zipper
bottom with drawing cord