Embroidered textile badges / Patches
With the textile badges made by Fahnen Kössinger clubs show their togetherness. Woven and printed patches as well as embroidered badges are available in the most different versions and diverse materials. We help you design your badges and patches and also sew them onto your shirt or uniform jacket on demand. Ask us also about big badges for the backside of your jacket!
Your way to the ideal badge:
You hand us your sketch in or have us make an artwork for you.
We give you our best advice as to the design, material and execution.
You receive an offer from us.
Your ideas are transferred by according to your wishes.
Three to four weeks later, your embroidered, printed or woven patches are ready.
Product details
Materials for embroidered badges
Twill fabric
Felt matter
Velvet, synthetic leather, etc.
artificial silk, metallic threads
border merrowed or laser-cut, depending on the shape
backside with heat-seal, self-adhesive or with velcro

Minimum order quantitis
10 pcs for machine embroidered
single pieces in hand embroidery
100 pcs in weaving or printing

Delivery time
machine embroidered: 3-4 weeks
hand embroidered: 6-8 weeks
woven and printed: 3-4 weeks

Machine embroidered badges
For the production of the badges, a computer program has to be made which will be filed for reorders over the next decades.
We offer a wide choice of materials and colors for your patches and badges. Small appliques can be embroidered as well as big badges for the backsides of jackets. You can iron these on, sew them onto clothing or have them fitted by special kinds of attachments (see below).
Twill fabric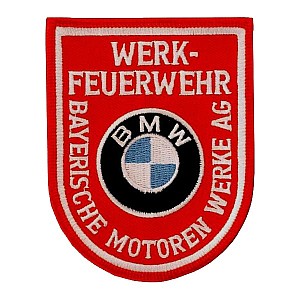 the heavy-duty standard material for badges that are sewn onto shirts and blouses, washable up to 60°C.
Felt matter
soft material, similar to felt, for badges that are suitable for chemical cleaning, mostly sewn onto uniform jackets
Special materials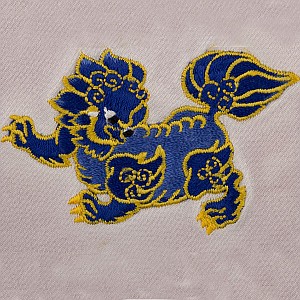 Velvet, artificial leather, reflective or camouflage fabrics - embroidered badges can be made on many materials
Embroidery threads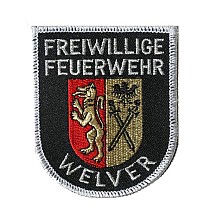 Badges are embroidered with water and light resistant threads of artificial silk in many colors, but also in gold and silver metallic
Motives and texts
For best legibility of writings on the embroidered badges, we recommend a minimum size of 5 mm for the letters, and block capitals at that. In this size, the single letters are put together by parallel stitches resulting in a clear caption.
On demand, we use cursive text types or Gothic ones with serifs. Wherever especially the small letters show many narrow curves or thin lines, they have to be embroidered by consecutive step lines. This may reduce legibility.
Elaborate motives are embroidered according to technical feasibility. Our modern embroidery computers also create badges in colorful, detailed presentation as well as with uncommon effects, e.g. flames in different shades.
For special effects, we also produce badges with high relief 3D embroidery. Here, the embroidery threads are stretched over rubber-like pads. Letters or plain motives can thus be presented in a very impressive way.
Outside shapes and borders
There are almost no restriction in the choice of the shape. Straight rims with pointed edges are equally possible as shapes that are cut exactly along the logo. Even cut-outs/holes within the badge do not pose any problem. The remaining material just must not be too thin so that it won't tear. We will give you good advice as to how your motive can best be transferred into an embroidered badge.
Badges in simple shapes without acute angles get a merrowed border. This border is put on by a special machine after the badge itself is finished and therefore is always made in a width of 3 mm that cannot be changed.All edges appear a little rounded. Badges with a merrowed border can be sewn on easily by machine or hand. On small patch formats, a 3 mm wide merrowed border may look a little blunt.
Especially small badges or shapes with acute angles get a stitched border that is being cut out and heat-sealed by laser. Thus, the basic fabric cannot fringe. The stitched border is embroidered at the same time as the rest of the badge and can be produced in any width..
Combination embroidery / digital printing
Photographic motives can neither be represented true to original in pure embroidery nor in woven execution. Transfer printing on fabric is not always the solution here as the effects of the embroidery or woven structures get lost. From quantities of 100 pieces up we offer a new kind of production - the digital printing on embroidered background. This combination offers a phantastic impression - the motives appear almost as on a painting.
Attachment types
Machine embroidered badges do not necessarily have to be sewn on. For changing use on uniforms or shirts, Fahnen Kössinger also offers alternative kinds of attachment. Badges can also be equipped with heat-seal or self-adhesive backing or finished as keyrings.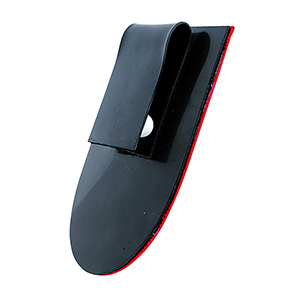 Tuck in flap
that is cut out in the shape of the badge. It is stuck onto the rim of the breast pocket and thus enables a fully mobile usage of the patch.
Velcro backing
consisting of hook and soft part. The soft fabric part is sewn tightly onto the clothing. The badge itself is equipped with the hook part and can be removed.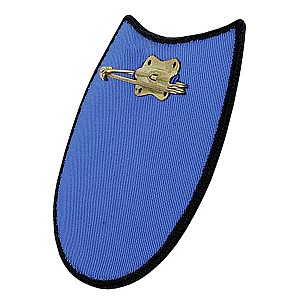 Additional fabric backside
with a safety pin or clip. The badge is supplied with an additional layer of fabric on the backside onto which a safety pin or a tie clip are sewn. The enables the changing attachment to shirt or uniform.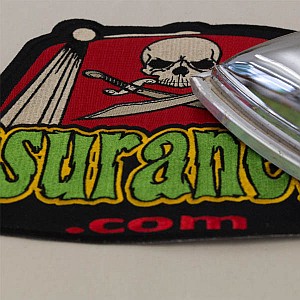 Iron-on backing
The badges have to be ironed-on from the inside of the clothing by exerting strong pressure. We recommend an iron as used in the industry to ensure a secure attachment and good durability.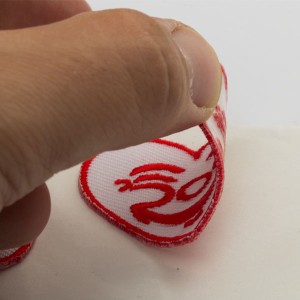 Self-adhesive backside
The badges are delivered on carrying paper and can be used as stickers. They are not suitable for changing use as dirt and fluff might stick to the adhesive area.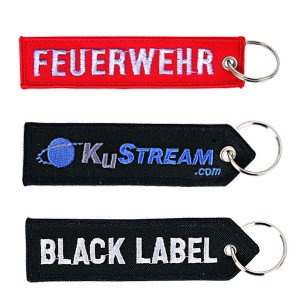 Keyring
Here, two badges are embroidered and sewn back to back. Equipped with a metal grommet and a split ring, the patches can be used as keyrings.
Hand embroidered badges
Our hand embroidered badges are unique pieces in high quality execution that we produce using only the most precious materials. Each detail is executed diligently per hand, also single pieces can be ordered. The price is depending on the quantity, the desired size and the complexity of the motives. These noble embroideries are sewn onto uniforms, paraments, etc. by hand.
Name tags
Name tags personlise uniforms and working cloths. We have many basic colors to choose from and embroider your name in the desired color.
Basic quality: twill ribbon
Size: width 25 mm, length up to 18 cm
different basic colors possible
embroidery color on demand
Block capitals, 14 mm high
Minimum order quantity = 5 different names
with hook and soft velcro parts possible
merrowed border on demand
Woven badges
For especially difficult motives, we recommend the badges in woven execution.
On woven badges, the texts and motives are especially fine and elaborate which allows a high exactness in showing the details.
Individual sizes and shapes on demand
Reproduction of difficult motives resp. small writings
Backside covered with fleece, border merrowed
For calculating the woven patches, please send us your artwork or motive. You will receive an individual offer relating to your information.