Acting with conviction
For us at Fahnen Kössinger's, it is extremely important to meet our values and convictions at all times. Therefore, we have summarized our most important basic principles in a corporate vision and keep on using this as orientation for our thinking and acting.

Thus, we manage to meet our own requirements and the promises that we have formulated for our customers and partners.
Glossary
Mission
The essential mandate of the company

Vision
Shows the superior goal of the enterprise

Brand values
For these values we stand

Brand promises
Promises resulting from the value system of the brand
Mission
With our products and our consultation, we offer each customer a solution perfectly meeting his proper demands so that he can present his identity in the best possible way.



Vision
We want to turn our customer's performance into a special event!

Living traditions
Creating values
Supporting community



Brand values
Our customers' identities form the center of our value system. With reliability, competence, creativity, and professionalism, we want to always take care of keeping our customers satisfied and make them trust us in all aspects.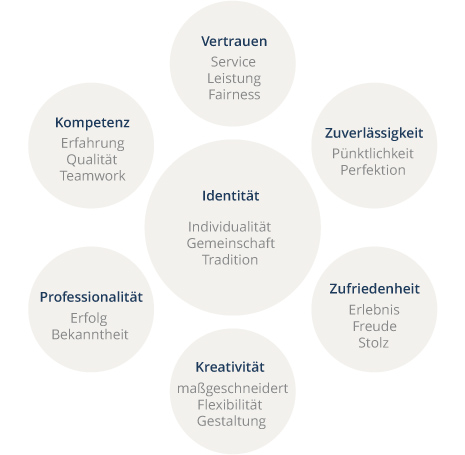 Our brand promise
Our service
Each customer and each of his or her requirements are unique. Therefore, we take our time for each single person in order to guarantee an extensive and optimal consultation. At the same time, we do not only place our handiwork skills at our customers' disposal but also give good advice in respect to questions regarding the design and the choice of motives.
Our flexibility
We know that schedules are sometimes rather tight and the next event cannot wait. Therefore, we are very flexible, work with an eye on the date and always deliver on time. No matter how short-term, we try to find the optimal solution for each customer demand.

 
Our offer
We want our customers to be fully provided for. Therefore, we do not only want to supply you witih a product but also offer you a complete solution and optimally coordinated at that.
Our performance
Our decade-long experience is a core part of our labor. As a team, we offer you our best so that each product that we deliver is really perfectly done.

 
Our suppliers
The same quality requirements that we base our work on are also demanded from our suppliers. At the same time, we attach special importance to a trustful cooperation and a fair togetherness.