Shoulder sashes for standard or special application
Our sashes are available in velvet, flag rep or cotton, one-colored, two-colored lengthwise divided and with a cotton lining.
The ends of the sashes are provided with 5 cm long fringes. On customer demand, the shoulder sashes can be embroidered on with an individual writing.
The sashes are thus the perfect companion for the most different events such as parades of firebrigades, soldiers' club, tambour bands or other clubs, but also for bereavements or the crowning of e.g. beauty queens.
Product details
Fabric
satin silk
cotton
velvet
flag rep

variants
most of the time two-colored
with or without embroidery in different executions
mourning sashes in black

Wearing prescription
with three flag ensigns two from the right shoulder to the left hip, one from the left shoulder to the right hip
white is on the neck side symbolising consistancy, piety, and purity
Shoulder sashes with embroidery
made of velvet or flag rep
motives and texts according to your demands
The sashes are with cotton lining and fitted with golden fringes.

Sashes without embroidery
In velvet, two-colored, e.g. white-red, with golden fringes and patent buttons
In cotton, two-colored, e.g. white-red, with golden fringes and patent buttons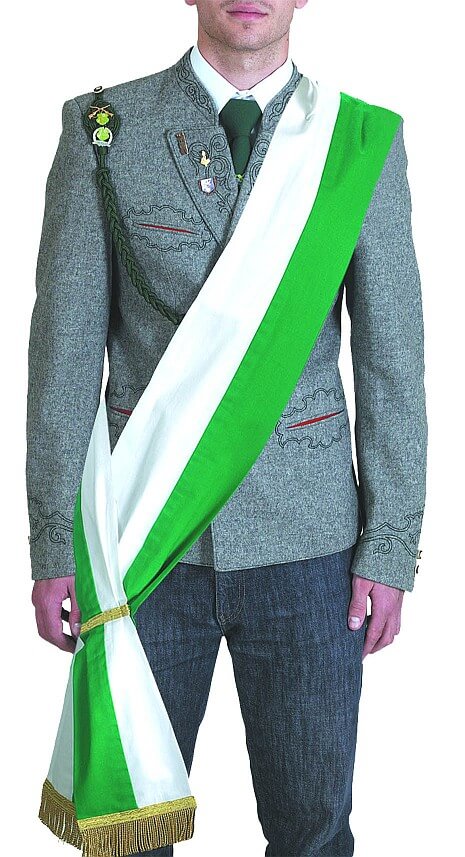 Mourning sashes
We manufacture these sashes of black high quality velvet or cotton with silver drilled fringes and fit them with patent buttons.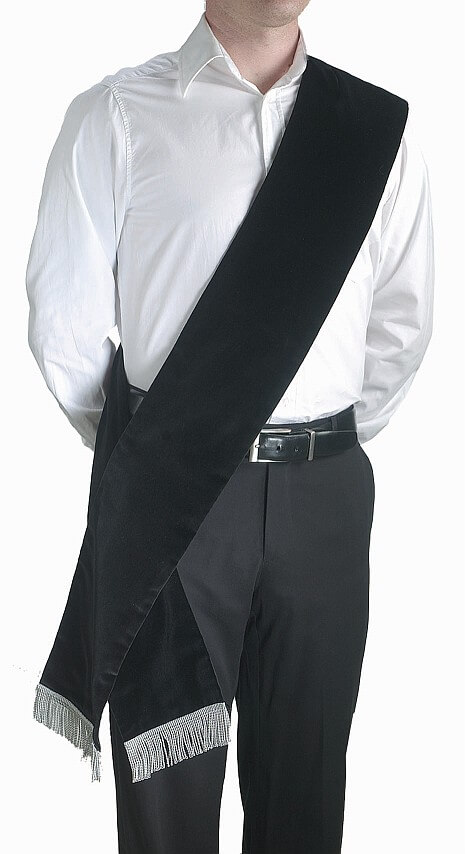 Wearing a sash
Shoulder sashes are worn by flag ensigns, at miss competitions, award ceremonies or other important occasions, such as, e.g. the elections of a hop, wine, apple or beauty queen. Fahnen Kössinger offers extensive advice so as to deliver the most suitable sash with your individual motive. Wearing a sash, you always have to take care that the white side always is at the neck and the bow is at the hip that is on the other side of the flag.