Table banners and table standards
Table banners or table standards are made by Fahnen Kössinger as a special table decoration in different executions. Depending on your imagination, we execute your motives and text in embroidery or printing, producing either table pennants or standards. We only use high quality materials that are best suited for being embroidered or printed on.
We also offer a diversity of borders. You may choose simple cord borders that can be supplemented by suitable tassels at the bottom. For special occasions, we equip the table standards and banners with gold fringes on the bottom edge.
Regarding the format, we gladly follow your demands.
For the rectangular banners or triangular pennants, you find here also suitable Tablestands in wood or metal.
Product details
Material
embroidery on flag rep or satin silk
printing on 100% polyester-satin

Shapes
rectangular or square standards
Format 20 x 25 cm or 25 x 30 cm (embroidered)

rectangular or pentangular banners
Format 20 x 25 cm or 25 x 30 cm (embroidered)

triangular pennants
Format 22 x 33 cm (embroidered)
Format 16 x 25 cm or 20 x 30 cm (printed)

Finishing
embroidered standards: bottom edge with golden fringes
embroidered pennant: with cord border and tassel
printed standards: with cord border, with fringes on demand
hanging of embroidered standards: with lace loops
hanging of printed pennants and standards: with cord, wooden or metal hanging on demand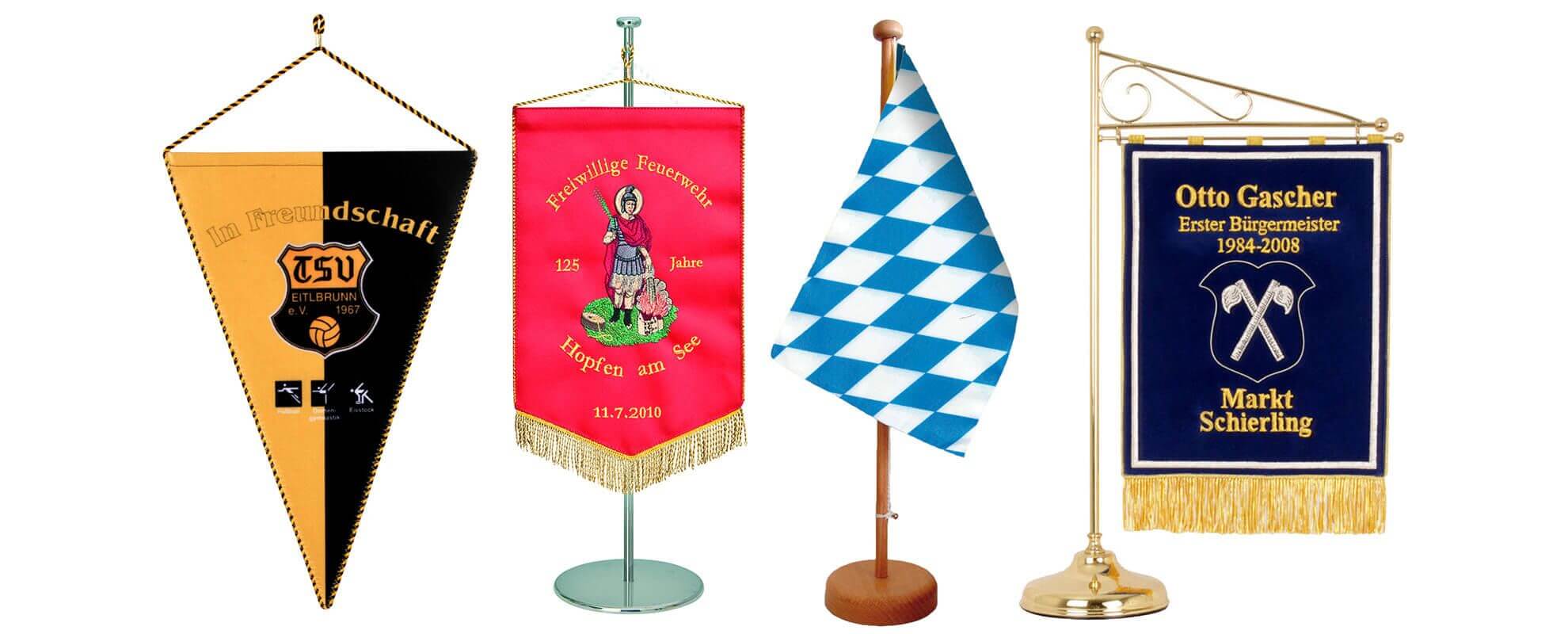 Embroidered table banners and pennants
Embroidered table standards
Size abt. 20 x 25 cm or abt. 25 x 30 cm
basic quality: flag rep or satin silk
embroidery one- or double-sided with the same or different motives and writings
we work out a design according to your imagination and transfer it into finest flat or chain stitch embroidery
writings embroidered in gold metallic on demand
bottom edge with gold fringes
hanging: lace loops
An alternative, especially for very elaborate and difficult pictures, is the so-called hand painting. Motives and texts are being inserted true to each detail.
Embroidered pennants
Size abt. 22 x 33 cm
basic quality: satin silk
with writing "In friendship" or "In Memento"
with embroidered club logo - either handed in by you and sewn on by us - or embroidered by us according to your artwork
finishing with cord border, cord hanging and tassel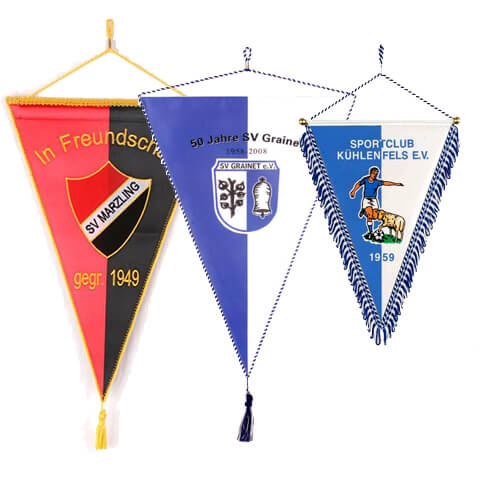 Printed table standards and pennants
Digital printing
Size abt. 16 x 25 cm or abt. 20 x 30 cm
basic quality: satin (100% polyester)
one- or double-sided printing
finishing: with cord border and cord hanging, bottom edge with fringes on demand
a wooden or metal hanging (with or without tunnel made of lace) is possible against a low surcharge
For the production in digital printing, the respective
printing files are necessary:
In case you cannot provide us with the required data, we are, of course, willing to prepare them for you.
Simply hand us your artwork in!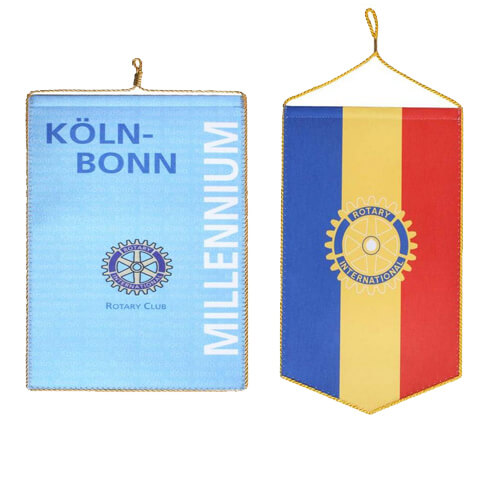 Offset printing
rom 50 pieces up
silk printing
double-sided with the same motive
up to 5 printing colors (yellow HKS 4, red HKS 23, blue HKS 47, green HKS 57 and black), special colors possible against surcharge
with or without PVC-cover
with cord border and cord hanging
with wooden hanging resp. artificial silk fringes on demand