Offers for medium-sized businesses
Good advertisment with an optimal effect to the outside is essential for medium-sized companies. Our flagpoles made of aluminium or wood combined with you company flag are ideal for this. We equip your personnel with business clothing of famous brand producers and refine jackets, caps, and working trousers with your company logo. For exhibitions, we offer our light-weight counters with exchangeable graphics. Together with the foldable pop-ups and collapsible walls, they form the frame of your exhibition stand. Normally, there is not much space in front of a shop so that eye-catching advertising means such as beachflags offer the ideal solution. They are available with different stands and easy to assemble and dismount.
place an inquiry
+49 (0)9451-93130
This email address is being protected from spambots. You need JavaScript enabled to view it.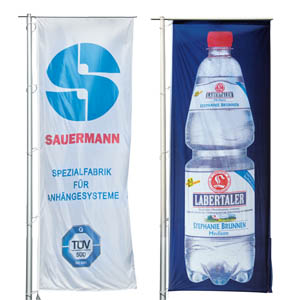 Hoisting flags
Without the optimal advertisement, especially medium-sized businesses have no chance on the market. The company, enterprise, shop should be well visible even from afar - this can only be reached by big-sized printed hoisting flags in front of the company area showing the corporate emblem clearly. For special campaigns, we print extra advertising messages onto your flags, and we give you good advice about design and execution.
To the product page hoisting flags>
Flagpoles made of aluminium or wood
If there is ample space in front of the company, you should put up several flagpoles there. The more flags the more impressive the advertisement! Our aluminium poles are available in heights between 5 and 12 m. They can be backfitted with cantilevers. For smaller edifices, also wooden flagpoles are suitable on which the flags can also be pulled up by a hoisting device.
To the product page aluminium flagpole >
To the product page wooden flagpoles >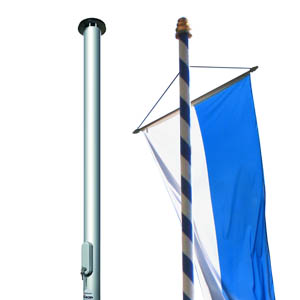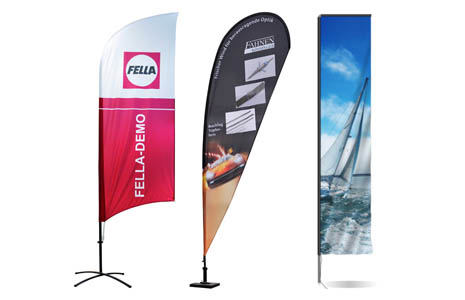 Beachflags
For shops in the city center with little space, smaller advertising mediums are the solution. Our beachflags stand secure outdoors on windy days on ground plates, weighed down by watertanks, and show your advertisement in an agreeable way.
To the product page beachflags >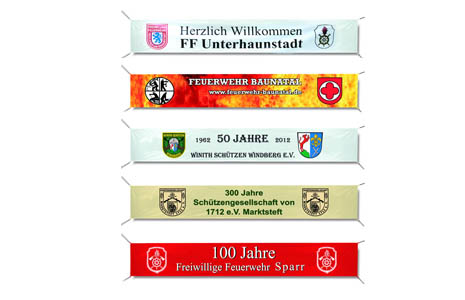 Transparents
In case you are planning an exhibition or a special campaign, promotion in the surroundings of your company is very important. Weatherproof transparents printed on with your enterprise logo and the dates of the events are best suitable for this purpose.
To the product page transparents >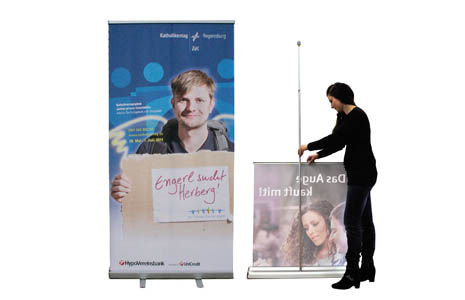 Roll-ups
For your exhibitions and reception rooms, we recommend smaller, easily exchangeable roll-up display systems. They are easy to transport in the enclosed trolleys, re-usable, and find place also in smaller rooms.
To the product page roll-ups >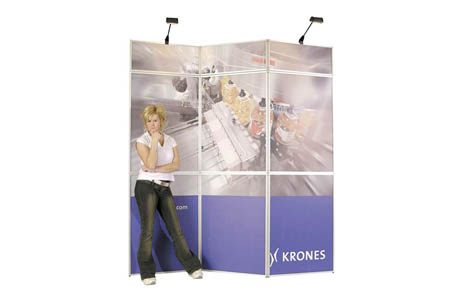 Folding walls & pop-ups
The folding walls that are available in oblong and landscape format with and without illumination fulfil more than one purpose. On the one hand, they present your promotion message, on the other hand, they can save as a room divider in bigger halls or cover up undecorative walls.
To the product page folding walls & pop-ups >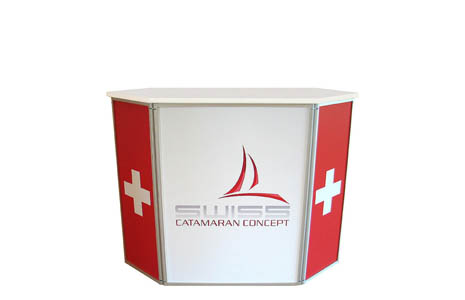 Exhibition counters
For the equipping of exhibitions and fairs, smaller sales counters are essential. They serve as an area for depositing and as communication area for customers and salespersons, but can also be printed on with advertisement.
To the product page exhibition counters >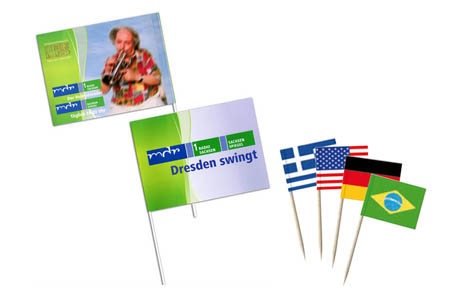 Paper and plastic flags
Promotion does not necessarily have to be big-sized and blatant. Very often, smaller, subtle things are sufficient to draw the attention of customers. How about discreetly placed small paper or plastic flags?
To the product page paper and plastic flags >
Further products for medium-sized enterprises
Visitors from abroad or from a neighboring country? Then the correct flags should be flying. We have all flags of the German states and most of the national flags on stock in various sizes, or we can deliver them within short. When, in addition, your guests are greeted by your employees in uniform company clothing with your logo or their names on polos or caps, the first impression is a very good one at any rate.