Flagpole accessories
Fahnen Kössinger has the complete range of accessories for your aluminium and wooden flagpoles. Starting from the ground tube up to the hoisting device, we supply you with all necessary accessory parts that enable an easy handling of your poles.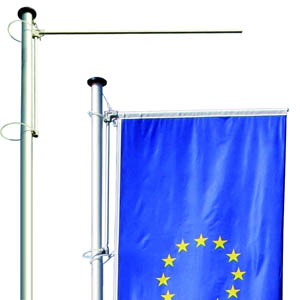 Hoistable cantilever for backfitting
Our hoistable cantilever is ideal for the backfitting of flagpoles that do not yet have a swivel arm. The backfitting cantilever is suitable for internal and external rope systems alike. Your advertising message is well visible by backfitting your pole with a swivel arm.
To the product page >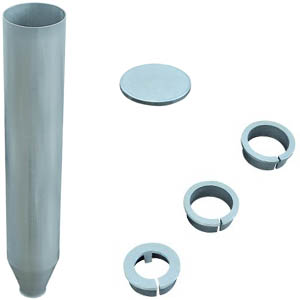 Ground tube, ground tube cover, and centering ring
Ground tube made of aluminium
Length 680 mm / Ø outside 120 mm / Ø inside 116 mm
Centering ring made of aluminium
for pole diameters 80 mm / 100 mm / 101 mm
Ground tube cover made of aluminium
Diameter 125 mm
To the product page >
Further accessories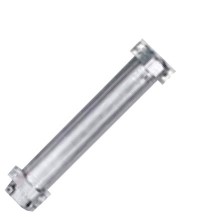 Wall tilting device made of steel, hot-dip galvanized
for pole diameter 80 mm
for pole diameter 100 mm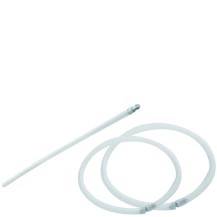 PVC grommet made of plastic with aluminium nipple
length 35 cm
length 45 cm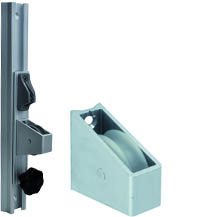 Hoisting device


idler pulley made of aluminium, standard only for Modicus
DeLuxe incl. aluminium idler pulley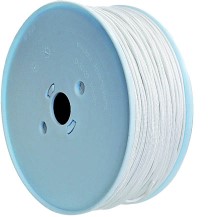 Dyneema rope


Rope diameter 3 mm, core braided for internal rope guide system
Polyester rope
Rope diameter 6 mm, for external rope guide system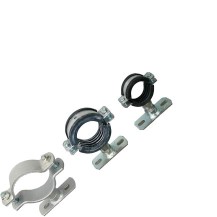 Massive pole brackets
for a pole diameter of 45 mm with rubber lining
for a pole diameter of 60 mm with rubber liningg
for a pole diameter of 80 mm
for a pole diameter of 100/101 mm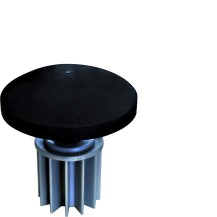 Pole head made of PVC


for external pole diameters of 60 mm or 80 mm, incl. socket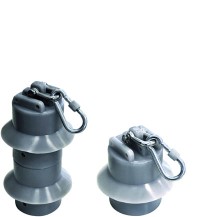 Weight to stop climbing


rubber-coated, noise-reduced, incl. spring hook
single, 525 g
double, 1050 g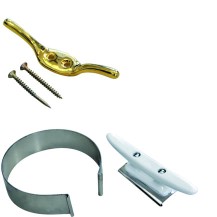 Hoisting clamp for aluminium and wooden flagpole Ligneus
plastic, screwable
plastic with pole bracket, pole diameter 80 mm
plastic with pole bracket, pole diameter 100 mm