Traditional church flags
Traditionally, the white-and-blue, so-called "Zacchaeus flag" is flown from the church tower on the Sunday of the church anniversary. Fahnen Kössinger is well versed in the old traditions and print this bannerflag in the desired size for your parish. We also provide the usual yellow-and-white church banners according to measurements. Let us know the height of your pole or where the flag ought to be attached to, and we give you good advice for the purchase of your
church anniversary flag (Zacchaeus flag)
Roman-Catholic banner flag
Protestant-Lutheran banner flag
Of course, we also supply you with church flags as hoisting flags in oblong or landscape format.
Product details
Standard sizes
80 cm x 200 cm
100 cm x 200 cm
120 cm x 300cm
150 cm x 350 cm
150 cm x 400 cm
150 cm x 450 cm
150 cm x 500 cm
150 cm x 600 cm

These standard sizes for church banners are quickly available, but we also print them in individual sizes on demand.

Finishing
as bannerflag
with crossbar and side knobs
hanging rope

Material
synthetic 110 g/m²
canvas/deco 155 g/m²
Material
Synthetic (knitted)
abt. 110 g/m²
brand polyester with a silk-smooth and dense, lightly transparent knitted structure, untearable and weather resistant.


Airflag (knitted)
abt. 110 g/m²
This quality has the same characteristics as synthetic but possesses a hole structure. The edges are only cut, not seamed.


Canvas/deco (woven)
abt. 155 g/m²
Dull, light waving, extreme tear-resistant material that is preferred in areas with strong winds .
Finishing
Top with hollow sleeve/tunnel (measured lying flat 6 cm) through which a wooden crossbar (Ø = 28 mm) is pushed, with white plastic knob at the right and left sides. White polyester rope (Ø 6 mm) serves for hanging, attached to the left and the right by a corrosion-free, durable ring grommet.If with special finishing, there is an additional hollow sleeve and crossbar at the bottom as well.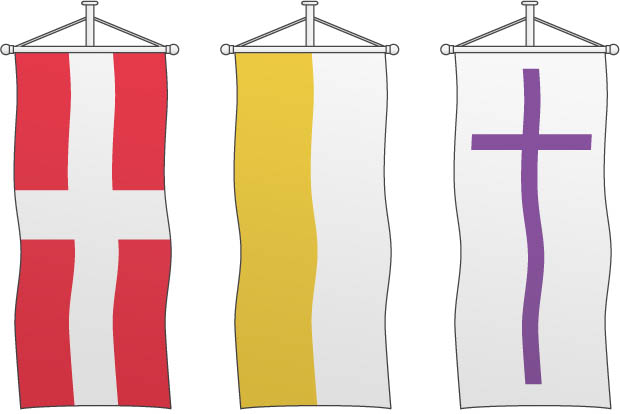 Standard motives
Church anniversary
Zacchaeus flag, red with white cross
Roman-Catholic bannerflag
weiß-gelb
Protestant-Luther bannerflag
white with purple cross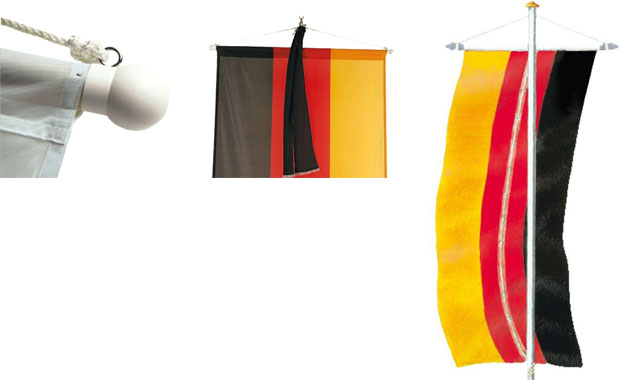 Details and accessories
wooden crossbar with white plastic knobs (left picture)
additional tunnel and wooden crossbar for weighing down the bottom edge
professional attachment of the crossbar to the flag
security ringband as storm protection, transparent holding ribbon with ring grommets (all in 22 cm), sewn in the center of the backside, incl. a 2 m long rope (right picture)
mourning banner, black synthetic, 110 g/m², 20% of the flag size (center picture)