National flags of the world
Flags of the world / International flags
National flags are a symbol and signpost of countries, nations, states, and associations. For centuries, national flags have been used as a sign of the togetherness and sovereignty of peoples. With a national flag, each institution or each single person is able to express his belonging and identity. Fahnen Kössinger offers you national flags, country flags, state flags, and city flags in a multitude of executions. Choose the desired flag or banner out of our list, we supply quickly and in the desired size in oblong and landscape format. As a material, we use light waving synthetic with weight of abt. 110 g/m². National flags are also available as small flags, boat flags or as oblique flags. As us for your indoor application about room flags, table banners, table flags, and paper flags.
Product details
Motives
Flags and banners of the world

Formats
Bannerflag
Hoisting flag in oblong format
Hoisting flag in landscape format
Boat flag
Room flag
Table banner and table flag
Paper flag

Material
light waving synthetic 110 g/m²

Accesssories
Poles
Wallholders
Executions
Hoisting flags in oblong format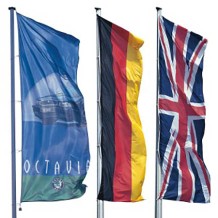 With the classical hoisting flag in oblong format, the national flag is "turned" so that the color that is usually on top, now appears at the polel side. Any crests remain upright.
Cantilever flags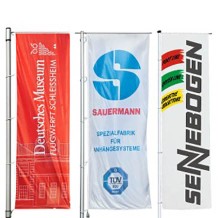 The cantilever flag is a hoisting flag in oblong format with an additional tunnel at the top. By the cantilever that is put through the hollow sleeve, the flag is also well visible at calm air.
Hoisting flags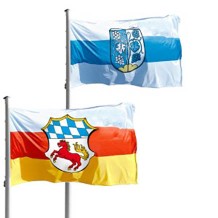 Hoisting flags are easy to put up onto the pole as they are comparatively light-weight. The national flag remains in its "usual" view, any crest appears in a big proportion.
Bannerflags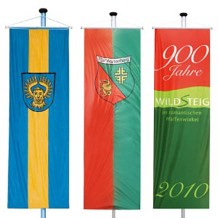 The bannerflag is printed as the hoisting flag in oblong format, only the finishing is different. A swivel arm is put through the hollow sleeve on top and provides best visibility of the flag.
Oblique flags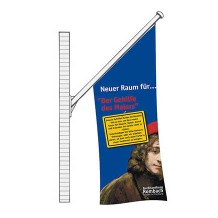 Oblique flags are used when there is not much space available. A wallholder replaces the flagpole, the flag gets a suitable oblique angle at the top.
Roomflag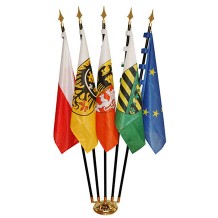 We sew roomflags for roomstands according to the local conditions on measurements. The flags are attached to wooden poles that can be put up singly or in groups.
Carflags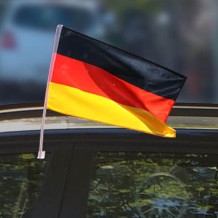 These carflags that are especially popular during bigger sportive events are normally sewn in a size of 30 x 45 cm and are supplied with a stable plastic holder.
Boatflags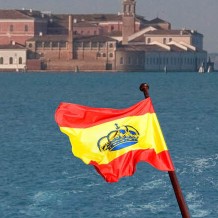 Boatflags with identification mark for the nationality are obligatory for each boat owner. Waterships are equipped with a flag at the rear that is attached to a flexible pole.
Tableflags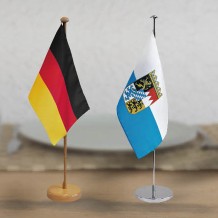 Tableflags with national flag offer an unobtrusive decoration in the conference room. They are attached by a thin rope that is drawn through a hole at the top of the flagpole.
Table banners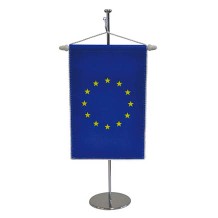 For table banners, the national flag is equipped with a crossbar with cord hanging. The suitable stands made of wood or metal have a little hook attached to the pole.
Paperflags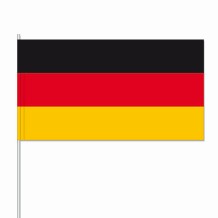 It would be a shame to throw away our paperflags! All nationalities are available - for waving or putting the flags up they have a plastic pole attached.