Carrying pennants / Youth firebrigade pennants / Company pennants
We produce these pennants in single pieces on customer demand. The carrying pennants can be furnished with your own motives and writings (the emblem of the German Youth Firebrigade is copyrighted, however). The embroidered pennants are thus a visible token of togetherness. The pennants are attached to a spear pennant pole and can be carried easily that way. The following execution is normally supplied:
Triangle pennant
SIze: 55 x 94 cm or on demand
Basic quality: cotton, velvet, or flag rep
Design according to your wishes, with or without a stripe at the rims
with cord border or with fringes
sides with fabric loops and two spring hooks
Product details
Format
triangular
standard size: 55 x 94 cm
custom-made format possible

Material
cotton
velvet
flag rep

Accessories
spear pennant pole
transparent cover
small spear finial

Accessories
We offer the suitable accessories for these pennants - the flagpole, a finial as top and a transparent cover as protection against rain, made to measure.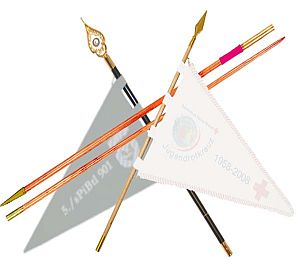 Spear pennant pole
The 240 cm long pear pennant pole has a diameter of 2.5 cm. The two parts are attached to each other by an easy to handle plug connector.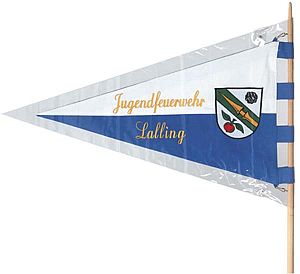 Transparent cover
The transparent cover ist cut to a measure of 65 x 105 cm and also includes the pole. This is how perfect rain protection looks like!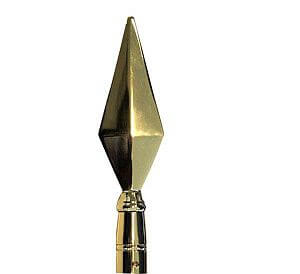 Small spear finial
The scarcely 20 cm high spear finial is delivered including the shaft and provides a noble endpiece of the spear pennant pole.