Printed flags and banners
The proper format for your purpose
Depending on the location and the designated use, printed advertising flags ask for different formats and executions. We print your company flags with your proper logo and text in silk screen or digital printing. Let us know which of the following formats you wish for your own motive on the printed advertising flags:
Hoisting flags in oblong format
Flags with bannerarm
Hoisting flags
Banner flags
Hanging and oblique flags
Product details
Possible applications
Advertising and company flag
Municipality flag
District or area flag
State or country flag
Club flag
Sports flag
Political party flag
Advertising banner

Fabric qualities
Synthetic, abt. 110 g/m²
Airflag, abt. 110 g/m²
Canvas/Deco, abt. 155 g/m²

Format
Each flag has its optimal format, let us give you advice. The flag size relies on the height of the pole.

Finishing
We equip your flag on demand, with hollow sleeve, spring hooks, grommets.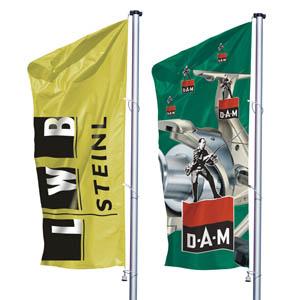 Hoisting flags in oblong format (also bannerflag)
Higher than wide. Stripes may either be arranged horizontally or vertically. Motives such as crests are normally placed in the upper third.
To the product page >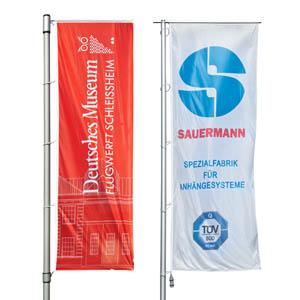 Cantilever flags
In an oblong format, one side attached to the pole, with additional cantilever. Good for areas with only light winds.
To the product page >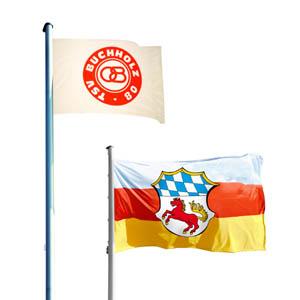 Hoisting flags
The flag that is used most. It provides the basis of all other formats.
To the product page >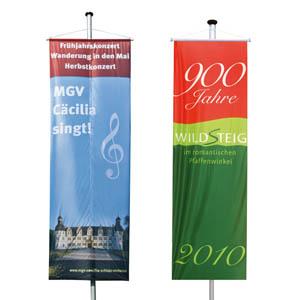 Banner flags
In an oblong format, top with hollow sleeve/tunnel through which a crossbar is pushed. Vertically hung onto a pole or a wall cantilever.
To the product page >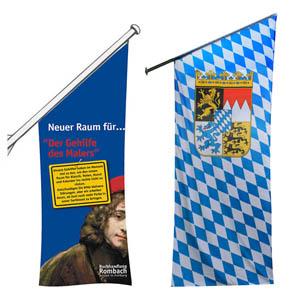 Hanging flag (also house or oblique flag)
In an oblong format, mostly hoisted on a horizontal wall cantilever and attached at the top edge.
To the product page >