Church, procession and mourning banners
The recommended format for these banners ranges from abt. 80 x 120 cm to 90 x 130 cm, but of course, also individual sizes are possible as well. We design each banner on your personal demand.
These banners are mainly used by ecclesiestical clubs who carry them ahead of parades or processions. They decorate the altar room during high ecclesiestical festivities.
Place inquiry
in catalogue
+49 (0)9451-93130
This email address is being protected from spambots. You need JavaScript enabled to view it.
Product details
Materials
Velvet
Flag rep
Damask
Silk
Brocade fabrics
Formats
mostly oblong
higher than wide
e.g. 80 x 120 cm
or 90 x 130 cm
Motives
precious ornaments
ecclesiestical symbols
figures of Saints

Suitable accessories
Church banners and procession banners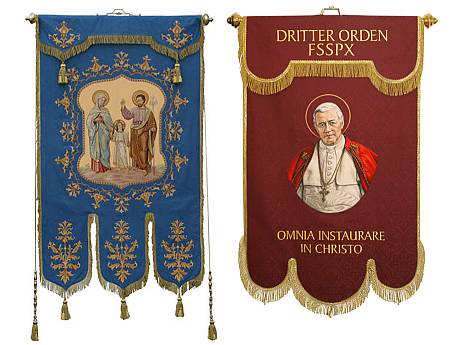 Mourning banners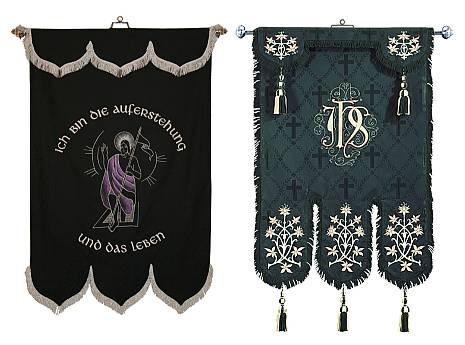 Finishing
Mourning banners are trimmed with fine artificial silk fringes in black or silver on the overhang and get suitable tassels as a completion.
The crossbar is made of wood and equipped with two chrome-plated side knobs and flag scales.
Sacral motives as embroidered works of art
In paramental embroidery, a special emphasis is laid on high quality materials, artfully designed motives and, of course, a relation to the sacral purpose for which the items are supposed to serve. The church parish gets best advice from us right from the beginning if they plan the purchase of a new church banner.
At first, we talk with the relevant representatives of the municipality so that we can give them the best advice in respect to execustion and design.
The next step is the production of small artworks and sketches in our design office so that you get a first impression about how the church banner is going to look like.
After your approval of the small sketches we produce an artwork in original size that you can again check and approve of.
Now, our embroiderers can start working and prepare the necessary embroidery materials and convert the artwork into a work of art.
The production of a church banner
For procession banners, Corpus Christi and mourning banners, our customers mostly choose precious fabrics such as brocade or silk. Our embroiderers put the sacral motives, the crosses, the monstrance or a picture of a Saint in different embroidery techniques onto the fabric and decorate the rims with gold and silver laces, cantille fringes and tassel sets. Thus the church parish have a precious work of art in their hands for decades and can make use of it during parades and church services in the liturgy.