Flagpoles most important
accessory for company flags
Fahnen Kössinger, August 16, 2017
High quality printed flags decorate each company and represent a sympathetic messenger for your proper brand - but they only come into their own by a suitable flagpole. Originally, it was a simple wooden post onto which a flag was attached, but in the meantime aluminium has become the most important material for poles.
Wooden poles
Flagpoles made of spruce or fir wood make an especially rustic impression and thus develop their own charm. In addition, this material is comparatively cheap - wooden poles are being chosen if you temporarily need, e.g. a big amount of poles for a festivity that you do not need anymore afterwards. Also for an application in your private garden wooden poles are well suitable. At any rate, the stability has to be checked regularly in order to avoid a rotten pole suddenly collapsing and causing damage. Wooden poles can be equipped with a pulley system that helps hoisting a flag. Normally, the poles are also painted or lacquered so as to protect the wood and also give the pole a nicer appearance.
Aluminium poles
In the meantime, aluminium has asserted itself as the standard material for flagpoles. It is light, unbreakable, corrosion-free and remarkably longer durable as wood. In addition, these poles can be coated with any color so that the performance of your company can be made perfect. There are also important features lying inside: The hoisting systems can be attached to aluminium poles in a way that no ropes or idler pullies are visible from the outside. This does not only have the advantage that the flags can be taken off more easily. The rope does not cause any clattering when the wind is blowing, thus preventing annoying noise. In the meantime, flagpoles are even available with lockable securities which can prevent the theft of flags.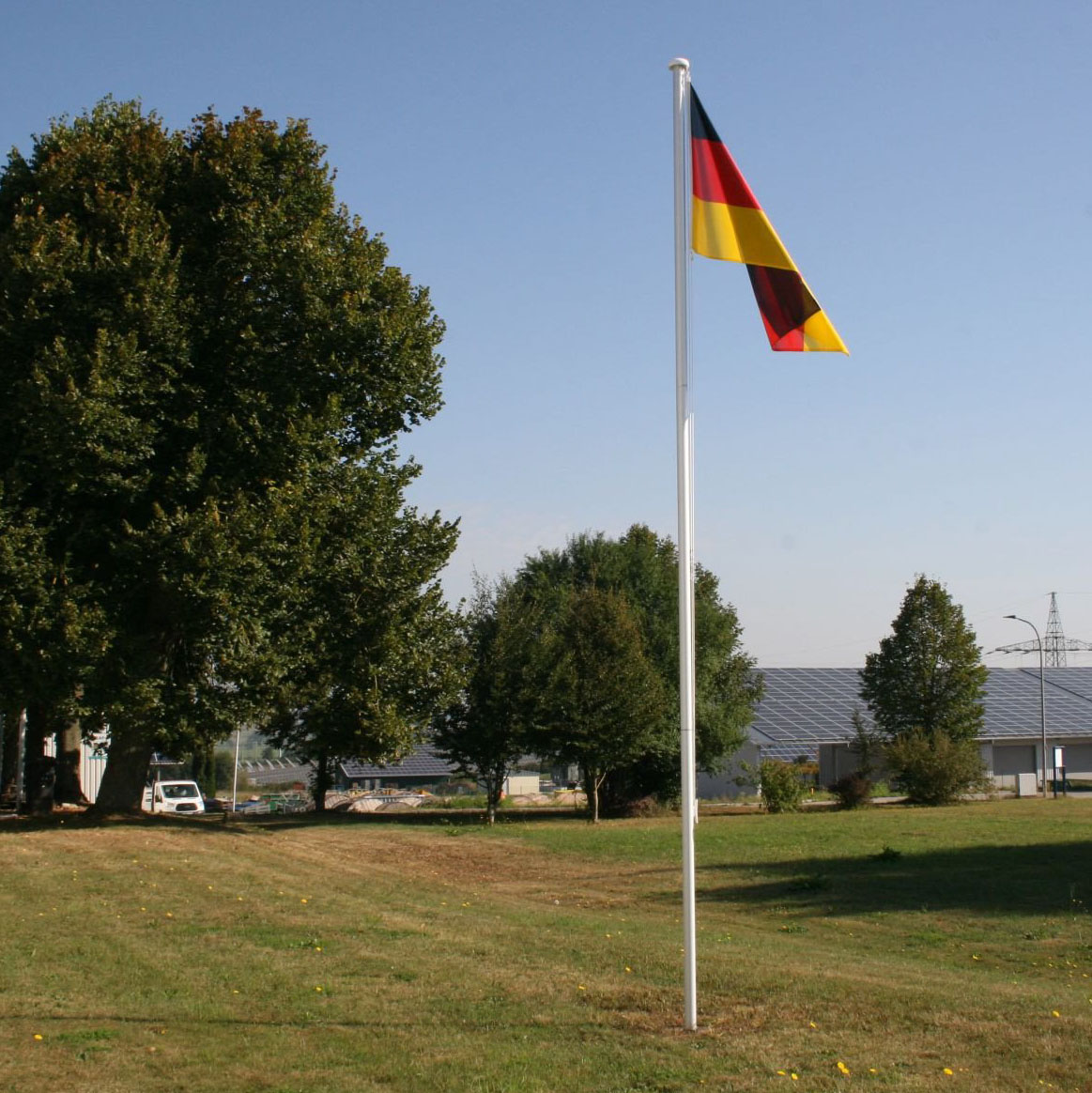 Reinforced plastic poles
Flagpoles made of plastic reinforced by glassfibre are also available. They are definitely comparable with aluminium poles in respect to durability and stability. The poles also withstand wind speeds of over 100 km/h, inspite of their light weight. The disadvantage lies in their comparatively high price that these poles cost.
What do you have to take care of
Flag poles are available in most different measurements. The standard heights lie between about five and ten meters, special productions may be significantly bigger. Thus, the presently highest flagpole is situated in Jiddha in Saudi-Arabia at the stately height of 171 meters. In Germany, the law applies that flagpoles up to a height of 10 meters may be put up without permission. It depends also on the flag how high the pole should be exactly. A small flag on a high pole looks as ridiculous as a big flag on a small pole. It is ideal to leave 3 meters between flag and ground. The flag should cover about half up to one third of the pole, it may be less for hoisting flags in landscape format.
Depending on the flag, cantilevers offer themselves onto which the flag itself is attached. These poles are pivotable or tightly attached to the pole and can partly be hoisted themselves - which makes it definitely easier to attach the flag. In the meantime, also flagpoles with several cantilevers are available.
For stability's sake, it is important not to choose the diameter of the pole too small: The longer the pole the bigger the diameter has to be. In addition, the pole has to be well anchored to the ground, most ideally with concrete. Systems with hinges and screws are being offered, but these are only suitable for short poles. Putting up poles, the distance between them should not be chosen too small. As a rule of thumb, a security distance of at least the width of the flag plus 40 cm should be kept.Thus it can be prevented that the flags touch each other when strong winds are blowing and get damaged. Ify ou take care of all these points, flagpoles serve their purpose for long years.