Music stand banners for music clubs
The typical standard format for a music stand banner is 45 x 75 cm, but we also make other sizes on demand. Your personally designed banner for a music stand may either be made in high quality embroidery or in a more low-cost printed execution.
Thus, you can present your music club or your orchestra or band during the performance on the stage with your logo and writing on the music stand.
We offer you a great variety of mounting devices that can be used for the music stand banners. Your music rest thus converts into a real precious object.
It goes without saying that the hangings can also be made for speakers' desks. If you let us know the measurements, we produce your lectern banner in a suitable size with the correct mounting.
Product details
Executions
Banner for music stands
Fanfare cloths for wind instruments
Drum cloths for percussion
Lectern banners

Formats
Standard for music rest 45 x 75 cm
individually adapted to width of stand
for diverse wind instruments on demand
adapted to big and small drums

Fabric
flag rep
velvet
synthetic fabric (210g/m non-transparent)

finishing
hooks sewn to the backside
velcro ribbon
fabric flap with or without opening for lyra
Lace loops with patent buttons

Embroidered music rest banners
Basic fabric: flag rep or velvet
Design: individually according to your demands
Finishing: bottom edge with fringes,
sides with matching cords, backside with lining
Mounting: lace loops with patent buttons or velcro, fabric flap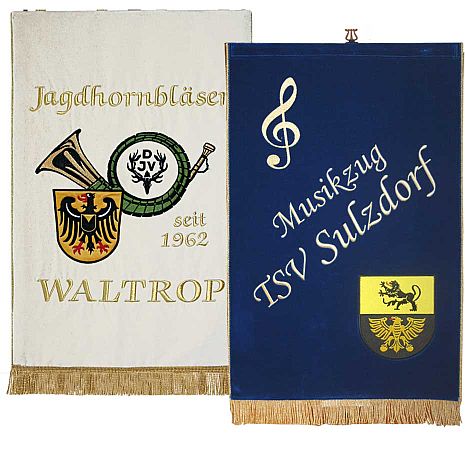 Printed music stand banners
basic fabric: non-transparent synthetic
printing: colorful digital printing with the number of colors being irrelevant
finishing: bottom edge with fringes,
sides with matching cords, backside with lining
mounting: lace loops with patent button, velcro or fabric flap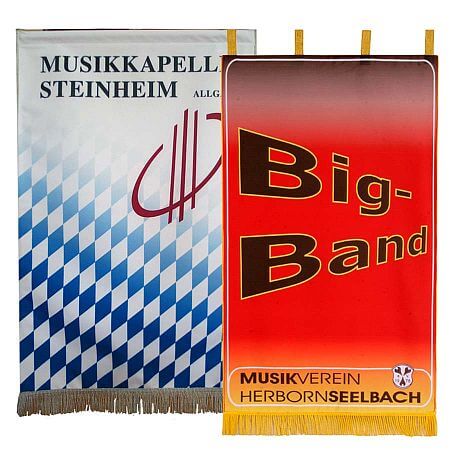 Hanging devices for music stand banners
For the attachment of music rest banners to the stand, we offer various possibilities. According to your demands, the stand banners can be equipped with hooks or a fabric flap. Alternatively, the mounting can be done by loops or velcro tapes. We also follow your special wishes and manufacture the music rest banners according to your desires and the measurements of your stand.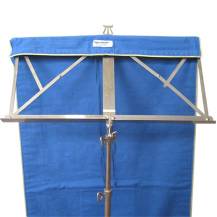 Fabric flap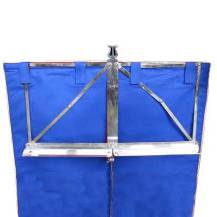 Loops with velcro tape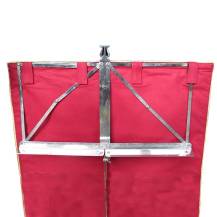 Velcro tape loops
Hook (picture similar)
Fanfare cloths
Fanfare cloths or instrument banners can also be supplies in any size (e.g. for trumpets, fanfare horns, or other wind instruments). The execution can be offered in printing or embroidery alike.

Drum cloths
Percussion instruments can also be used as an "advertising medium" or figurehead of your orchestra or rockband. This slightly different kind of instrument banner is called drum cloth. Totally on customer demand, we can produce your special drum cloth for the big or small drum or the tomtoms.