The conservation of historical club flags
Besides restoration, the specialists at Fahnen Kössinger's are also familiar with the techniques of conserving old traditional flags. But where is the actual difference between the two?
Restoration

from lat. restaurare = restore, reconstruct
the flag is partly made anew and supplemented
missing/damaged parts are made anew
Conservation

from lat. conservare = conserve
maintaining the original condition
preventing further decay
Place inquiry
in catalogue
+49 (0)9451-93130
This email address is being protected from spambots. You need JavaScript enabled to view it.
Workmanship makes the difference
What a professional conservation made at Fahnen Kössinger's accomplishes shows a comparison between before and after the works. The pictured examples show how almost totally faded flags are blazing in new splendor and can be preserved for further generations.
The conservation process
Disassembling the flag including connecting laces, fringes and hanging rings


Scrutinising the condition of the filaments and their color fastness


Removing of repair patches (do not ressemble the original appearance of the flag)


Restoring the original form of the single parts in line with the filaments


Cleaning of both sides by suctioning off the dust within a protection net and rinsing in a water bath as far as the condition of the flag allows


Drying the filaments and technical post-treatment in order to enlarge their elasticity and regeneration


Reconstruction of painted flags - the loose particles are being laid onto the original places, but no new painting is added


Putting an extra ply made of specially dyed fabric under tears in order to avoid further deterioration of the basic fabric


Fixating the fragments of the basic web in the ressembling color and, if necessary, putting on a silk net on each of the sides


Assembling the conserved flag by sewing
Further usage of the conserved flag
In contrast to a restored flag, the conserved flag must not be used and employed anymore during festivities, flag consecrations or foundation ceremonies. It only serves for museum purposes and can outlast the next decades if it is kept in a glass cabinet. Such a cabinet can also be purchased at ours.The flag is then visible from both sides, and the motives can be looked upon from the back and the front. The flag has to be protected against dust, direct sunlight, moisture, mechanical movement and temperature fluctuations.


Close-up view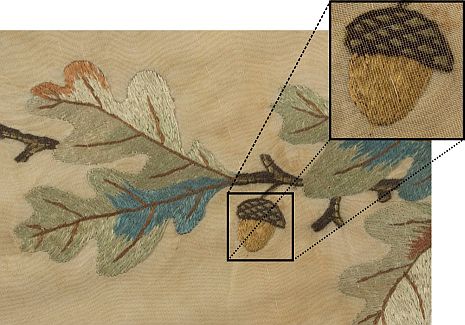 Conservation behind acrylic glass panes
Historical club flags or standards that are not longer in use can be kept behind acrylic glass panes in a representative way.
the flag or standard is put between two acrylic glass panes
thickness of panes abt. 6 mm
three sides with distance braces in order to guarantee air circulation
upper rim with distance brace and drilled hole for taking in a brass pole
brass pole attaches loops or grommets of flag resp. standard
For wall attachment of the acrylic glass panes, Fahnen Kössinger offers artistically made, wrought-iron or modern acrylic glass holders