Carrying straps for club flags and standards
A very important accessory item for the bearer of the club flag or standard is the carrying strap. This strap made of first-class genuine leather facilitates the hold on the flag resp. standard when marching in a parade or presenting the flag by perfectly distributing the weight onto the belts.Fahnen Kössinger provides these hand-made carrying straps in several executions.
Product details
Material
genuine leather
black or white
metal buckles

Executions
simple carrying strap
crossed carrying straps
carrying strap for children/bearer of club panel
special quiver for riders

Accessories
pivotable application
shoulder pad
back part
handicraft
Executions of carrying straps
The flag carrying straps are available in uniform sizes with adjustable belts, in black or white.
This length adjustment enables the individual adaption of the carrying strap to each bearer.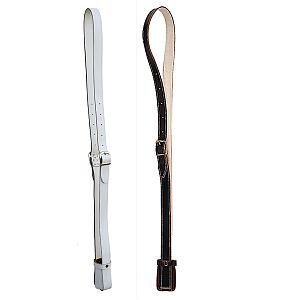 Simple carrying strap
for lighter flags and standards - simple belt that is laid over the neck - length 110 cm. With shoulder pad against surcharge (broadening of the carrying strap belt in the area of the neck)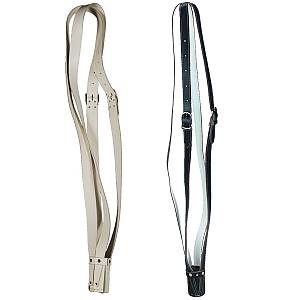 Crossed carrying strap
for heavy flags and flag poles - double strap distributing the weight equally on both shoulders (is worn like a pair of suspenders) - length 110 cm. With shoulder pad against surcharge (avoids slipping of the belts).
Carrying strap for children/bearer of club panel
smaller quiver with thinner belts, for smaller poles, ideally matched for young bearers carrying the club panel
Accessories for carrying straps
By simple means, the handling and carrying comfort can be further increased.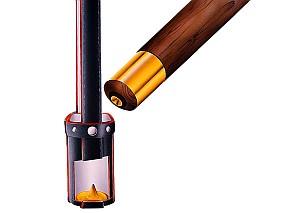 Pivotable application
For a better swinging of the flag, the carrying strap quiver can be equipped with a pivotable application made of brass. A matching counterpiece on the flagpole is necessary for this to work properly.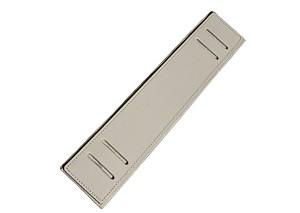 Shoulder pads
prevent a cutting of the belts into the neck and help avoid painful muscle cramps.
Back part
for the crossed carrying strap prevents a slipping of the belts and provides a firm hold.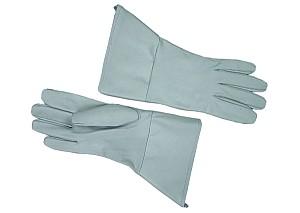 Gloves for the flag bearer
available in high quality nappa leather or low priced jersey gloves made of white fabric.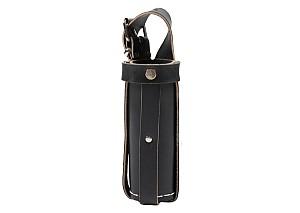 Special quiver for riding and coach clubs
can be attached directly to the saddle so that the standard can also be carried when riding.