Offers for music clubs
Music bands that take part in parades proudly carry their embroidered club flag or standard in front of them. Also choirs, orchestras or tambour bands have flags with musical motives made as a symbol of togetherness and wear uniform clothing with shirts and jackets that are refined by us. If you plan a festivity, we provide you with the suitable accessories.
Place an inquiry
+49 (0)9451-93130
This email address is being protected from spambots. You need JavaScript enabled to view it.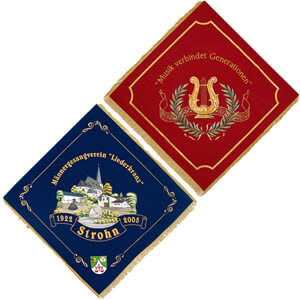 Club flags for music clubs
Choir, orchestra, wind band, tambour band – no matter which kind of music group is performing, music has always been an essential part of our cultural life. This should also be clearly demonstrated to the outside, and how could it be done any better by displaying an artfully embroidered club flag? The two sides of the flag are usually designed differently, and in the beginning, one should think about which motives and writings are to be embroidered on. We gladly help and give good advice choosing suitable ones.
To the product page Club flags for music clubs>
Standards for music clubs
No matter which club - without a wind band no parade is thinkable. The musicians lead all other participants and take care of the right mood. So as not to just being noticed acoustically but also making clear where they come from, the embroidered standard should on no account be missing. Fahnen Kössinger offers a multitude of choice of musical motives, a line of notes, a lyra, a tambour pole or a tuning fork – for choirs, orchestras, wind bands and tambour corps, we embroidered on demand suitable emblems with reference to the respective kind of music.
To the product page Standards for music bands >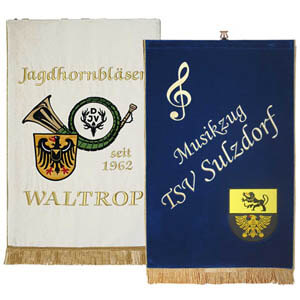 Music stand banners
The music stands of the musicians should offer a homogeneous picture as the catch the eye immediately standing right in front on the stage. Equipped with printed or embroidered music stand banners, they can serve as a signpost for the orchestra. Club emblem, musical motive, or the name of the group, the wind band or the choir make the audience realize immediately who is responsible for the musical performance. The banners are available with different kinds of attachments.
To the product page >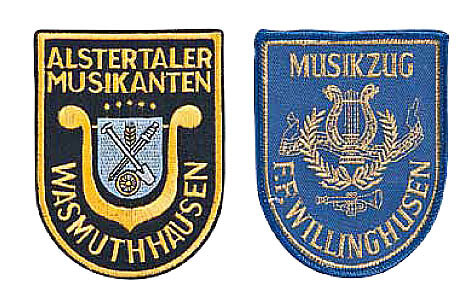 Badges for music clubs
As any other club, also music clubs need pins for their annual honorary tributes. For jacket or shirts, we recommend uniform embroidered or woven patches in the club colors, with musical motive.
To the product page Embroidered badges >
To the product page Metal badge >
Neckties and scarves
Neckties and scarves embroidered or printed with a musical motives for ladies and gentlemen show the membership to orchestra or choir. Chiffon, polyester, microfibre or pure silk are equally possible as materials.
To the product page >
Further products for your music club
Even if the music club is not on their way on a "musical mission" but perhaps undertaking a trip or collectively attending a concert, a good impression is made by wearing uniform clothing. We have polos, softshell jackets, baseball caps and other textiles that can be refined with writings and motives. For the festivity, we supply the necessary accessories, transparents and display systems for advertising purposes, decoration for the festival tent, but also documents, beverage tokens and admission bands. Ask us!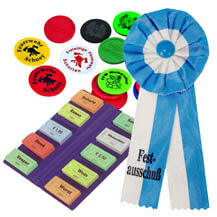 Festivity requirements
To the product page >
Transparent
To the product page >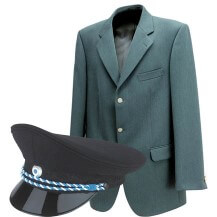 Club clothing
To the product page >