Our flagpoles
Flagpoles and their corresponding banner and hoisting flags should not only hint at official edifices. They are already an ideal advertising means for all company and store buildings by their mere height and large format.
From the simple wooden flagpole up to the 10 m high aluminium pole with or without bannerarm, we deliver this eye-catcher directly to you - including all accessories. In case you have trouble installing the poles - our mounting service gladly helps out.
Anfrage stellen
+49 (0)9451-93130
This email address is being protected from spambots. You need JavaScript enabled to view it.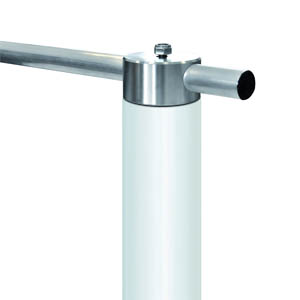 Flagpole with cantilever
In order to optimally present your advertising message on the flag also on windless days, we can provide bannerarms in different lengths for our flagpoles. They are pivotable fully 360° so that the flags can turn freely around the pole axis. The non-hoistable cantilevers are available in a length of 120 resp. 150 cm complete with pivotable cantilever beam head. It is also possible to backfit the bannerarms to the poles.
To the product page flagpole with bannerarm>
Flagpole without cantilever
In contrast to steel poles, aluminium poles are less expensive and easier to transport. Also without a protecting varnish, they are free of corrosion and can be delivered in color against a surcharge. The poles that are between 5 and 12 meters long can be erected easily in ground tubes embedded in concrete and can as easily be taken out again. Against a surcharge, we also provide a hinged baseplate. The rope can be lead outside or inside the pole.
To the product page flagpoles without bannerarm >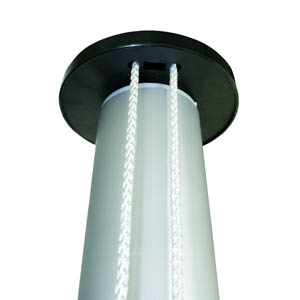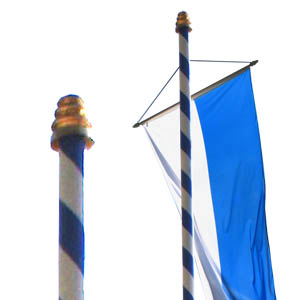 Wooden flagpole
For private use, our low cost wooden poles are best suitable. These one-part poles made of fir core wood are painted white for protection and can also be provided with a white-and-blue spiral painting against a surcharge. We supply standard lengths between 5 and 8 m, but also other sizes on demand. The mounting is easy. The hoisting system consists of a roll and a clamp made of aluminium resp. plastic.
To our product page wooden flagpoles >
Mobile flagpoles
These three-part telescopic poles in lengths between 2,20 and 6 m are ideal for application as advertising means for activities, fairs or similar events as they can be easily transported.
To the product page mobile flagpoles >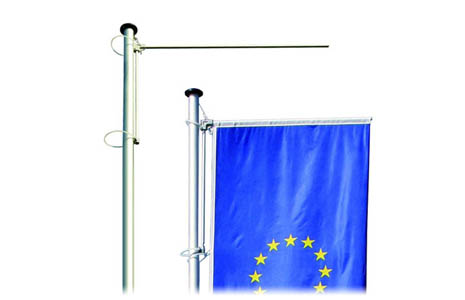 Hoistable bannerarm for backfitting
By using a crank for the inside wire rope, the flag can be pulled up along the pole together with the bannerarm. These cantilevers are pivotable at 360° and available in 120 and 150 cm width.
To the product page hoistable cantilever for backfitting>
Further products for flagpoles
The 68 cm long ground tube made of aluminium is set in concrete at the position of the flagpole. A centering ring provides a straight erection of the 80, 100 or 101 mm thick flagpoles. When the pole is removed, a suitable cover keeps the tube clean of rough dirt. In winter, the flagpole can easily transferred into an illuminated Christmas tree. In short time, tree-shaped LED light chains can be attached to the pole and provide romantic lighting. In case you have problems mounting the poles or attaching the bannerarms, our fitting service can help you.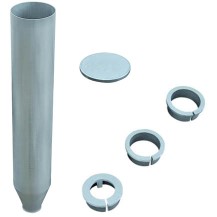 Ground tube
To the product page >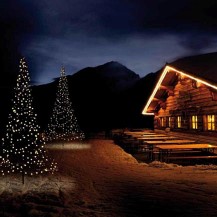 Christmas illumination
To the product page >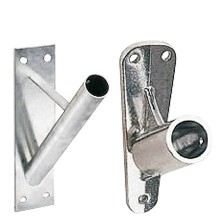 Wall holders
To the product page >