Aluminium flagpoles
Fahnen Kössinger is well stocked in flagpoles and the respective accessories. Moreover, we offer an extensive know-how in planning, mounting, maintenance, and repairing of flagpoles. As a special service, we also take care of installing the poles (including the setting of the corresponding foundation) - please send us your inquiry.
The supposedly most current form of flagpoles are those made of aluminium. Aluminium poles are very stable, corrosion-free, weatherproof and easy to transport and mount due to their light weight. Flagpoles of Fahnen Kössinger are supplied in various executions and offer the ideal solution for different requirements. Get a picture of our flagpoles.
Product details
Executions
Flagpoles without cantilever
with external hoisting rope
with internal hoisting rope
Flagpoles with cantilever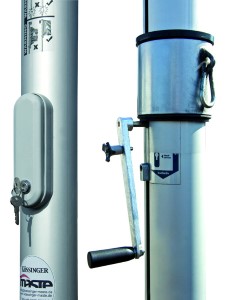 Advantages of aluminium flagpoles in contrast to poles made of steel
less expensive to purchase
easier, cheaper transport
quicker installment without heavy machinery
resistant to corrosion also without protective coating
available in any RAL color (against surcharge)
simple recycling
We deliver all poles to your desired address within 2-3 weeks. 
Flagpoles without cantilever
Flagpoles with cantilever