Tradition and innovation
Establishing a connection between the past with its consciousness of tradition, well established and passed down items and the future, its novelties, improvements and visions - this is the goal that Fahnen Kössinger GmbH in Schierling (Bavaria) is aiming at.

Founded in the year 1928, the traditional enterprise with its presently around 60 employees is the leading manufacturer of high quality embroidered and printed club flags in the German language area. The range of available articles includes all sorts of flags, flagpoles, club requirements as well as club and business clothing.

The application of all current printing techniques (above all silk screen and digital printing) allows an extraordinary product variety. In the sector of textile advertising, we can thus offer an extensive range for the optimal presentation of enterprises, products, and brands.

By making investments and planning innovations, the already extensive customer base consisting of well-known addresses from industry, trade, and public service as well as a multitude of clubs is going to be expanded further.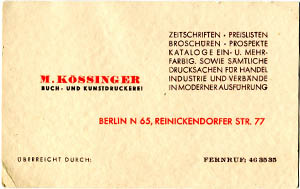 1928
Foundation of the company Kössinger as a printing press in Berlin

1939
Start of World War II and temporary closing of the enterprise because of the war

1953
The company is refounded in Langquaid as a small family enterprise, the printing machines are transported from Berlin to Bavaria. Flag embroidery and club requirements are additionally taken up into the assortment.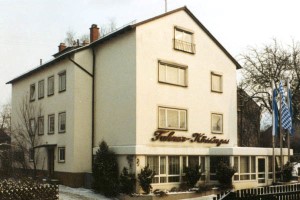 1958
The company moves into the neighboring. The number of employees increases incessantly, the products are sold all over Bavaria.

1963
In post-war Germany, many clubs are being revived. Tradition and identy are shown to the outside by club flags. Fahnen Kössinger experiences a boom and is a supplier for all areas concerning clubs and societies.

1978
Takeover of the meanwhile strongly grown company by Meinrad Kössinger.

1985
Continuous buildup of the business and enlargement of the number of products. Establishing trading relations with additional suppliers.

1989
Meanwhile over 50 employees are working at the site in Schierling.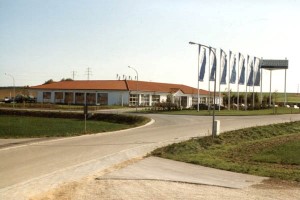 1991
New construction of business offices Am Gewerbering creating new possibilities of marketing by being able to present the flags in an attractive way.

1993
Flag poles made of aluminium become an important factor for the turnover.

1995
Enlargement of the product range in the sector printed flags and advertising products. Fahnen Kössinger now offers a wide range of products for textile outdoor advertisement as well as exhibitions and events.

2005
Concerted investments in IT and employees as well as in modern machinery offer good prospects for the future. As a traditional company, Fahnen Kössinger remains an attractive employer in the area.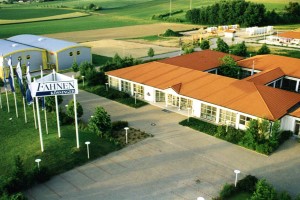 2008
Fahnen Kössinger celebrate their 80 year jubilee

2012
The client base grows to over 100,000 customer. Among them, there are many clubs, popular companies and public authorities.

2013
The enterprise with its four departments club flags, club requirements, printed flags, and flag poles as well as club and business clothing is widely positioned.

2014
Generation change and new company appellation Fahnen Kössinger GmbH. Strengthening of the brand by elaborating a corporate vision. Fahnen Kössinger remains true to their 80-year-long history and wants to continue making their customers' performances a real event.

2015
The Fahnen Kössinger GmbH is fully up-to-date with their traditional products, their encouragement of togetherness and their common values. Strengthened for the future, targeted investments are made in new sales and marketing ways as well as in the brand itself.