Our guiding principles
To combine the past with its reflection on traditions, the proven and the handed down with the future, its innovations, improvements and visions - this is the goal to which the traditional company Fahnen Kössinger in Schierling (Bavaria), founded in 1928, has dedicated itself.

Since then, we have been constantly developing and acting as a company according to our guiding principles, which have been ingrained over decades:

preserve tradition
live sustainability
further cohesion
Despite the unstoppable modernization, we insist on old values and understand our responsibility as a traditional company. Transparent communication with our customers is the recipe for success, according to which we have been producing handmade art embroidery to the highest quality standards for decades. We attach great importance to punctuality and satisfaction, just like our long-term business partners.
We consider sustainability just as much a part of our responsibility. For this reason, in addition to the normal fabrics, we offer green alternatives for our promotional materials. We are also involved in regional projects and use our company green spaces to create a home for insects and nature.
Since the beginning of Fahnen Kössinger we have been building on cohesion. This does not only mean the cohesion in a club or in a community. We pay special attention to the interpersonal togetherness and promote events that create a special added value for our society.
We are a broad-based company with both feet firmly planted in two different market segments. On the one hand, we take care of club customers with our club and festival supplies, who make use of our decades of experience, as well as our very talented embroiderers, and have their old club flags elaborately restored by us. However, we equally offer a large assortment of advertising materials, printed products, and clothing that can be refined.
With our products and our advice, we offer each customer a perfectly tailored solution with which he can present his identity in the best possible way. The use of all common types of printing (especially screen and digital printing) allows us to offer an extraordinary variety of products. In the field of textile advertising, we can also provide a comprehensive spectrum for the optimal presentation of companies, products and brands.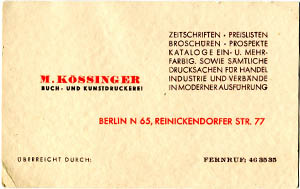 1928
Foundation of the company Kössinger as a printing press in Berlin

1939
Start of World War II and temporary closing of the enterprise because of the war

1953
The company is refounded in Langquaid as a small family enterprise, the printing machines are transported from Berlin to Bavaria. Flag embroidery and club requirements are additionally taken up into the assortment.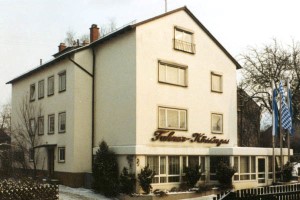 1958
The company moves into the neighboring. The number of employees increases incessantly, the products are sold all over Bavaria.

1963
In post-war Germany, many clubs are being revived. Tradition and identy are shown to the outside by club flags. Fahnen Kössinger experiences a boom and is a supplier for all areas concerning clubs and societies.

1978
Takeover of the meanwhile strongly grown company by Meinrad Kössinger.

1985
Continuous buildup of the business and enlargement of the number of products. Establishing trading relations with additional suppliers.

1989
Meanwhile over 50 employees are working at the site in Schierling.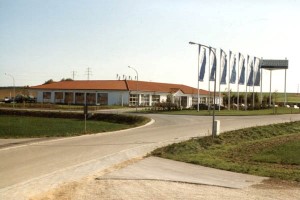 1991
New construction of business offices Am Gewerbering creating new possibilities of marketing by being able to present the flags in an attractive way.

1993
Flag poles made of aluminium become an important factor for the turnover.

1995
Enlargement of the product range in the sector printed flags and advertising products. Fahnen Kössinger now offers a wide range of products for textile outdoor advertisement as well as exhibitions and events.

2005
Concerted investments in IT and employees as well as in modern machinery offer good prospects for the future. As a traditional company, Fahnen Kössinger remains an attractive employer in the area.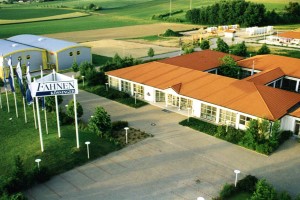 2008
Fahnen Kössinger celebrate their 80 year jubilee

2012
The client base grows to over 100,000 customer. Among them, there are many clubs, popular companies and public authorities.

2013
The enterprise with its four departments club flags, club requirements, printed flags, and flag poles as well as club and business clothing is widely positioned.

2014
Generation change and new company appellation Fahnen Kössinger GmbH. Strengthening of the brand by elaborating a corporate vision. Fahnen Kössinger remains true to their 80-year-long history and wants to continue making their customers' performances a real event.

2015
The Fahnen Kössinger GmbH is fully up-to-date with their traditional products, their encouragement of togetherness and their common values. Strengthened for the future, targeted investments are made in new sales and marketing ways as well as in the brand itself.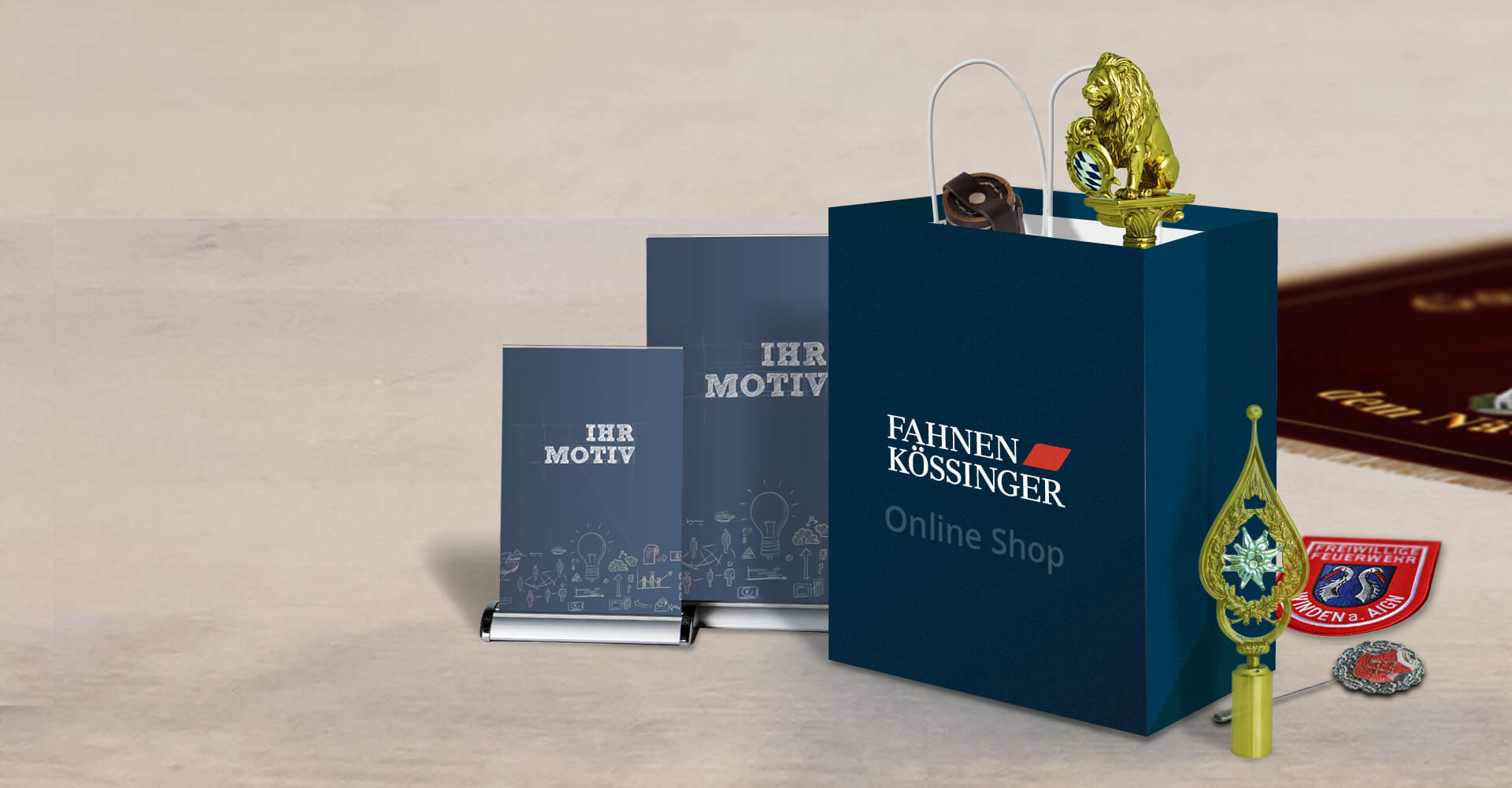 2016
Our online store with over 15,000 articles is launched, and thanks to our investments in the efficiency of our work processes, Fahnen Kössinger remains a pioneer in digitalization.


2018
Fahnen Kössinger celebrate their 90th anniversary! We continue to gain new experience and make constant improvements. With the new apprenticeship as a merchant in e-commerce, we are now among the first companies in Germany to be allowed to train an apprentice in this direction.


2020
We rise to every challenge, including the Corona pandemic. Right now, innovation and imagination are in demand. By developing the new "Vereinszeit" brand with original products for all groupings and other additions to our assortment, we always remain up-to-date.