Memorial gifts for guests and honorary members
The more personal a gift is, the more the event it was donated for is being remembered. Fahnen Kössinger has a lot of ideas how your club remains in the memory of the presentee. Ask us for a suitable memorial gift for your guest and honorary members.
Product details
Application range
individual memorial gift
tribute for special honorary members

Execution
embroidered club emblem
painted picture

Formats
DIN A4 (21 x 29.7 cm)
24 x 32 cm
Embroidered and painted pictures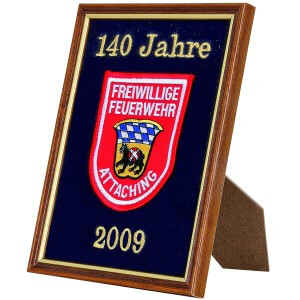 size abt. 30 x 40 cm
motives on demand
with suitable text
in decorative wooden frame on demand
Embroidered picture on velvet fabric
This especially noble gift can be made in various kinds. On demand, we deliver it put into a suitable wooden frame.
with embroidered club emblem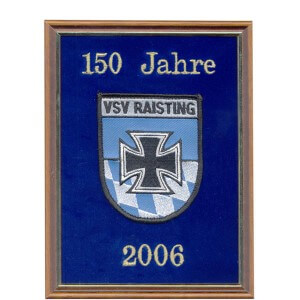 size abt. 15 x 20 cm
inscription embroidered in gold metallic threads
with your embroidered club emblem that you provide us with or that we make extra for you anew
in real wooden frame
Frames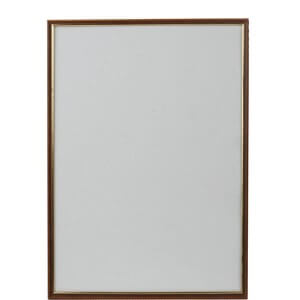 three different sizes
Format 21 x 29.7 cm (DIN A4)
Format 24 x 32 cm
Format 30 x 42 cm (DIN A3)
all with hangers for oblong and landscape format
smallest size with additional stand