Figurines made of polyresin/polystone
The figurines are designed in a very detailed way and lovingly painted by hand. Their base can be inscribed individually. We add the writing for you against a small surcharge so that you are able to present your patron club or your honorary member with a personal gift that gives pleasure for a long period of time.
The high quality figurines made of polyresin, a hardened polyester material that is mixed with marble powder are cast by hand, worked over with a scalpel, get a chalk priming and are colored and equipped with antique finishing individually by hand. Polyresin is very resistant to light and highly durable against weather influences.
Product details
Material
polyresin, hand painted

Motives
firefighter in workwear
three firemen
Saint Florian
wall relief
target Toni
shooter with saluting gun

Special executions
individual writing on base
little printed flag
St. Florian
overall size abt. 34 cm
colorful or bronze
with empty little flag
The little flags can be printed on against surcharge:
minimum order quantity 30 pieces
text on your demand
printing in black
We also have other figurines of St. Florian on stock in sizes starting at 12 cm up to 55 cm. Please send your inquiry.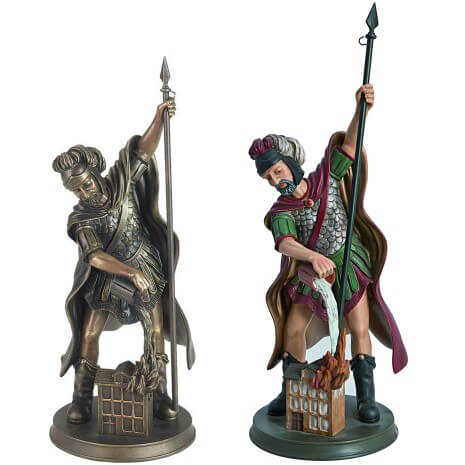 Wall relief
The relief with St. Florian can be equipped with extra individual writing on the scroll at the bottom, in addition to the already attached slogan at the center.
size abt. 21 x 23 cm
hand written dedication against surcharge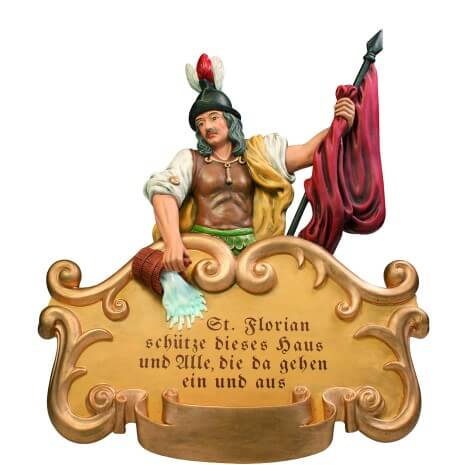 Three firemen
size abt. 22 x 24 cm
in especially elaborate hand painting
base inscription possible,
e.g. "For our patron with thanks..."
or "For Mayor ... for special services ... from the firebrigade..."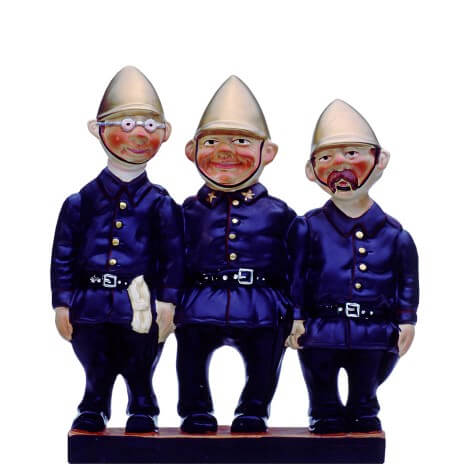 Single firefighter
available in two sizes, 21 cm or 34 cm
in original workwear designed in color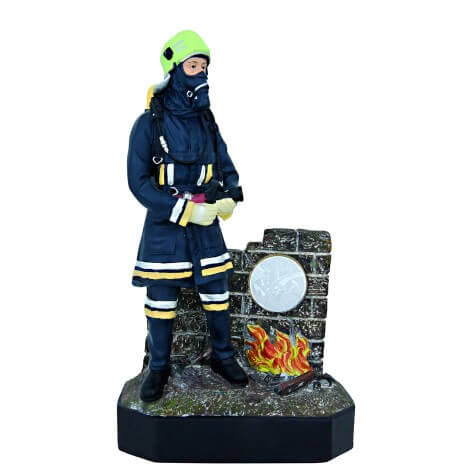 Target Toni
size 12 x 23 cm
base inscription possible
This figurine tells the tale of the small village boys who indicated the hit target rings with a "shooting ladle" and thus earned a couple of coins for themselves. Our statue represents a motive of the well-known painter and shooter Hermann Kaulbach from Munich.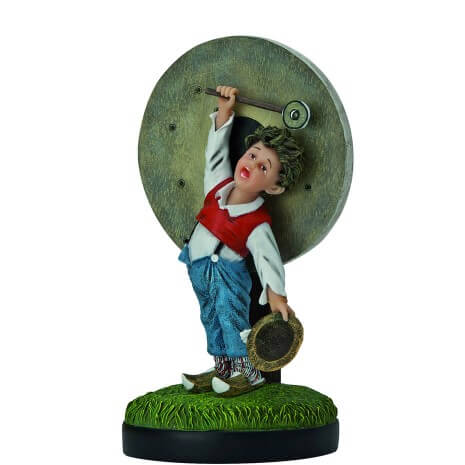 Shooter with saluting gun
size 9.5 x 27 cm
base inscription possible