Fahnen Kössinger, Sept. 23, 2016, 10:23 a.m.
Actually, what pops with the pop-up? - Indoor display systems
They encounter us everywhere - advertising messages of companies and shops, performance information of municipalities and clubs. Outdoor or indoor - everybody tries to draw attention to themselves and their products or their event.
However, these so-called displays are not always applied correctly. Toppled over beachflags, blown off banners and torn tarpaulins bear witness that not every system is suitable for each area of application. Before deciding which of the numerous available products on the market to buy, one should carefully consider what is best adequate for the intended purpose.
Displays for indoor application
What is important for the advertisement in performance rooms, at fairs, conventions, or at exhibitions in museums or shops and shopping malls?
It has to meet several requirements:
easy to transport
quick to assemble and dismantle
small space requirements
still well visible
attracting attention
re-usable more than one time
Systems
A "display system" is a complete set of advertising articles that consists of a printed commercial message and a holding system. The nomenclature for such systems is manifold.
roll-up, pop-up, beachflag, decoration banner, transparent, folding wall, beachbanner, customer fence, mobile fence, tenterframe, exhibition table, Bali flag
Let's have a closer look at the single advertising systems.
Was bedeutet Roll-Up eigentlich?
Beim
Roll-Up
werden bedruckte Grafikbahnen aus blickdichtem Synthetikmaterial oder PVC mittels eines verschleißarmen Einrollmechanismus am Fuß der Vorrichtung durch eine Spiralfeder in eine Kassette eingezogen und sicher verstaut.
Das Aufstellen des
Roll-Ups
erfolgt durch Hochziehen der Grafik aus der Kassette und Verankern mittels einer Metall- oder Glasfaserstange. Diese kann zusammenklappbar oder - ähnlich wie früher die Antennen von Autos - teleskopierbar sein. Die Oberkante der Grafik wird in ein Metallprofil eingeklemmt.
Die meisten
Roll-Up
Systeme sind wiederverwendbar. Das bedeutet, die Grafikbahnen können aus den Klemmschienen entfernt und durch aktuellere, neue Werbebotschaften ersetzt werden. So spart sich der Kunde die Kosten für das Halteprofil und schafft nur den Druck neu an.
Roll-Ups
werden nur im Innenbereich verwendet, da sie sehr leicht sein müssen und keinen Witterungseinflüssen ausgesetzt sein dürfen.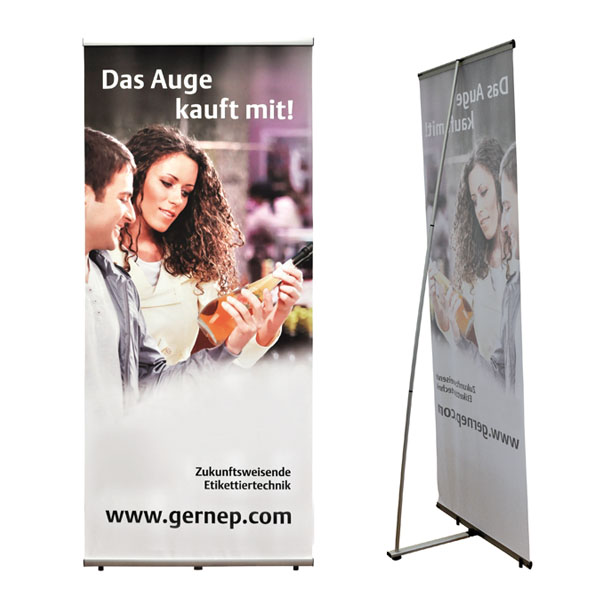 Was poppt beim Pop-Up?
Bevor ein
Pop-Up
für eine plötzlich auftauchende Werbung auf einer Internet-Seite stand, gab es den Begriff schon als Bezeichnung von Grußkarten, die sich beim Aufklappen in ein dreidimensionales Bild auffalten lassen. Und nun noch eine neue Bedeutung – das
Pop-Up
als Haltesystem für großflächige Werbebotschaften. Im Grunde genommen geht es auch hier um klein zusammengelegte Profile, die sich zu einem großen Rahmen auffalten lassen, ohne dass etwas geschraubt oder zusammengebaut werden muss. Wie eine Ziehharmonika wird das System auseinandergezogen, schnappt entweder durch Magnete oder Clipverschlüsse ein und bildet ohne zusätzliche Füße eine stabile Wand – eine Faltwand eben.
Die Werbegrafik kann nun entweder mit Klettband, Magnetstreifen oder ein Reißverschluss-System wiederverwendbar angebracht und leicht ausgetauscht werden. Auch die
Falt- oder Pop-Up-Wand
kann nur im Innenbereich eingesetzt werden.
Die Messetheke – der Tisch, der Werbung macht
Die Zeiten, in denen normale Tische als Ablage und Abgrenzung am Messestand sorgten, sind lange vorbei. Heutzutage packt das Messepersonal aus dem rollbaren Trolley die Grafikbahn aus, steckt die ausgerollte PVC-Werbewand in die Bodenplatte und legt oben die Holzabdeckung auf – fertig ist eine stabile
Theke
, die gleichzeitig als Ablage, Werbeträger und Stauraum dient. Auch dieses System ist beliebig oft wiederverwendbar, da die Drucke einfach nur durch neue Grafikbahnen ersetzt werden. Transport und Aufbewahrung bis zur nächsten Messe sind unkompliziert, das System ist platzsparend und universell einsetzbar – selbstverständlich nur im Innenbereich.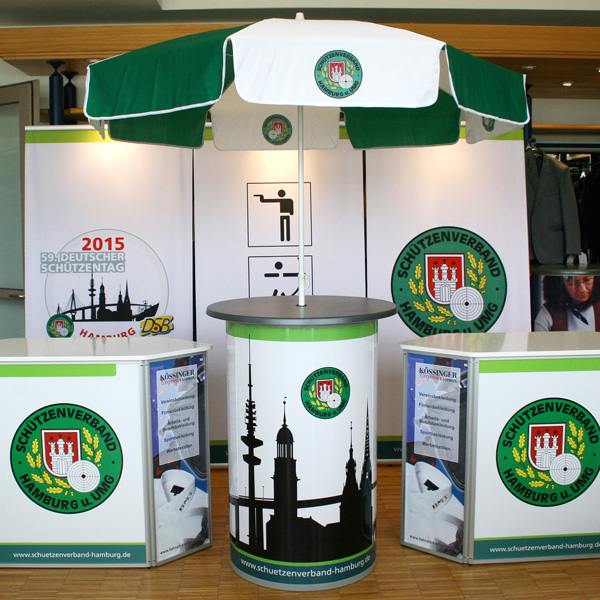 Dekobanner – dekorative Werbung in Bannerform
Rechteckige Fahnen im Hochformat, die von der Decke oder an der Wand hängen stellen wohl die älteste Form von Werbung oder auch nur Dekoration dar. Neu entwickelt werden ständig Halteprofile wie Aluminiumschienen, Metallclips etc. und die Druckmaterialien, die von leichtem Synthetik bis hin zum blickdichten, flammenhemmenden PVC für jeden Einsatzzweck reichen. Auch die Druckarten werden immer vielfältiger, um brillante Farben in fotografischer Qualität zu erzielen und Kundenwünsche optimal umsetzen zu können.
Dekobanner
können wie Fahnen auch im Außenbereich eingesetzt werden. Für den Innenbereich empfiehlt sich eine flammenhemmende Beschichtung nach Brandschutzklasse 1.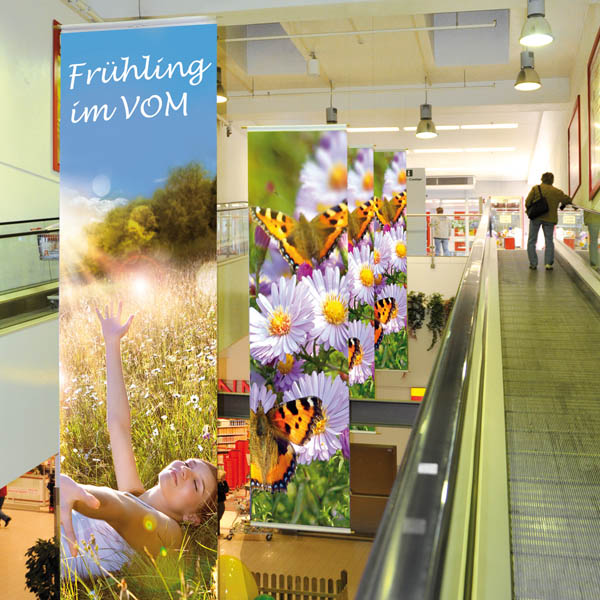 Mobile Banden/Beachbanner – Kundenstopper
Mobile Banden
, die Kunden stoppen? Bandenwerbung kennt wohl jeder vom Fußballplatz oder der Sporthalle – hier dienen mit Werbung bedruckte, fest verbaute PVC-Bahnen auch als Abgrenzung zum Zuschauerraum. In leichte Aluminium-Rahmen gespannt und zusammenklappbar lassen sich die Banden überall hin nehmen und machen als
"Beachbanner"
sowohl Beach-Volleyball-Felder als auch Verkaufs- oder Ausstellungsflächen für Kunden unzugänglich. Daher der etwas unfreundlich klingende Name "Kundenstopper".
Das PVC-Material, das für die Grafiken verwendet wird, lässt sich leicht transportieren, ist aber dennoch stabil und strapazierfähig.
Die dachförmig aufstellbaren Systeme lassen sich im Freien mit Bodendübeln fixieren. Nach der Veranstaltung sollten sie wieder sicher verpackt werden, da sie nur kurzfristig und bei gutem Wetter unter freiem Himmel verwendet werden sollten.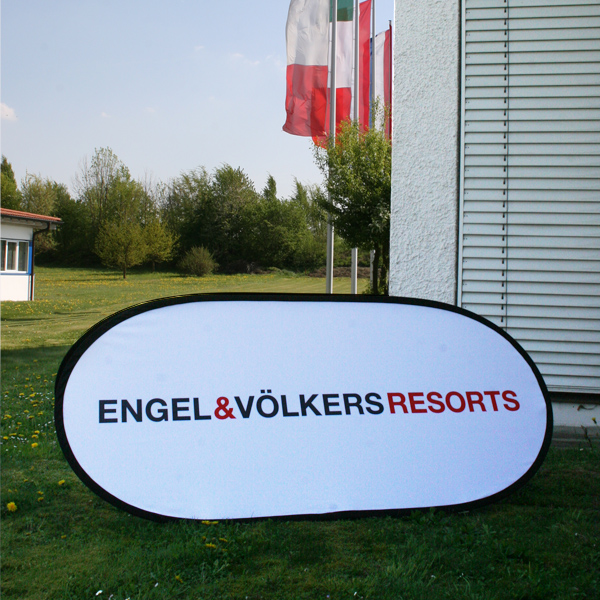 Spannrahmen
Bei diesen
Werbeträgern
handelt es sich im Grunde genommen um Aluminiumprofile mit einer Gummilippe, die aus maximalen Profillängen von 300 cm zusammengefügt werden können. Von der normalen Bilderrahmengröße bis hin zum überdimensionalen Wandbild ist hier alles möglich. Die Rahmen lassen sich beliebig wiederverwenden, da die Drucke einfach entfernt und durch neue Bilder ersetzt werden können.
Bis zu einer maximalen Größe von 200 x 200 cm können die Rahmen freistehend, gesichert durch extra Standfüße aufgestellt werden. Größere Rahmen sind nur für die Wandbefestigung gedacht.