Jackets and uniform coats
Our tailor takes your measures and sews your jacket individually just for you while you have the choice between different possibilities.
side or back slit
put-on or flap pocket
number and kind of buttons
fabric quality flannel, gabardine or tricotine
color dark blue, light or medium grey
Product details
Production
made to measure by our tailor
custom-made

Choice of fabrics
flannel
gabardine
tricotine

Models
various pockets
different button-tabs
color choice (dark blue, light or medium grey)
side or back slits
Adjutant's cord
These cords are worn by flag ensigns and bearers.
overall length: abt. 125 cm
front length: abt. 55 cm
back length: abt. 70 cm
width of braided cord abt. 3 cm
opening for buttonhole at the top (shoulder)
available in gold or silver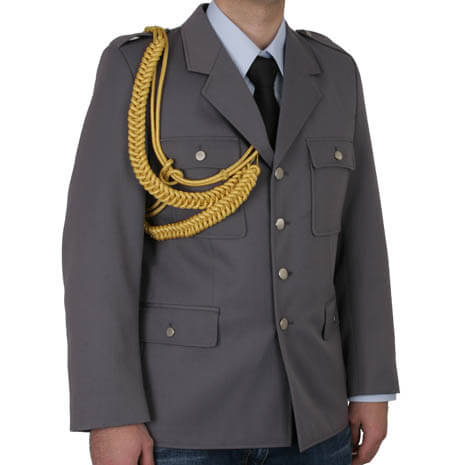 Buttons
Our tailor can offer you a great choice of buttons with and without motive. Here, there are a couple of examples - choose the desired button directly when your jacket is measured!